"Roman and Drew Are Very Special Talents"- Undertaker Praises WWE Champions Drew McIntyre and Roman Reigns
Published 02/11/2021, 2:17 PM EST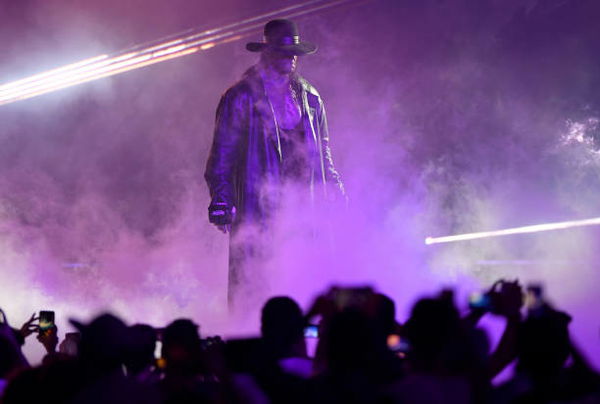 ---
---
In his legendary career, the Undertaker has shared the ring with many legendary opponents. From WWE legends like Hulk Hogan to new talent like AJ Styles, Taker has faced all and beaten all. However, the one man Undertaker hasn't beaten is Roman Reigns. In a recent interview, Taker gave his opinion on WWE's Tribal Chief and his Raw counterpart, WWE Champion Drew McIntyre.
ADVERTISEMENT
Article continues below this ad
Undertaker praises Roman Reigns and Drew McIntyre
ADVERTISEMENT
Article continues below this ad
In 2019, Undertaker teamed up with Roman Reigns to take on Shane McMahon and Drew McIntyre. Despite Taker and Shane competing, the match was one of the best of the year and a highlight of the Deadman's career.
In an interview with Justin Barrasso of Sports Illustrated, Taker talked about the incredible match.
"That match meant a lot to me. I go all the way back with Shane to when he was in college. I have a long-lasting relationship with all the Samoans, and Roman is one of the Samoan greats. As a human being, I think the world of Roman."
Taker has confessed that he wanted Roman Reigns to break the Streak instead of Brock Lesnar, proving how much confidence he has in the Samoan.
"And Drew is one of those genuine guys. Anytime I'm around, he's right there picking my brain. He's not doing it because it looks good to others, he does it because he genuinely wants to get better. Those are two legitimately great stars."
Drew and the Deadman have shared the ring only once, but the current WWE Champion held his own against the legend. Their interactions at Extreme Rules 2019 had fans excited for a potential one-on-one match between the two down the line.
Extreme Rules match helped Taker get over Goldberg debacle
In the month prior to the Extreme Rules tag team match, Undertaker faced Goldberg at WWE Super Showdown in Saudi Arabia. The genuine dream match between the legends turned out to be a disaster as Goldberg botched a Jackhammer, planting the Deadman square on his head. It was a harrowing experience for Taker, who walked out of the ring with no celebration after winning.
ADVERTISEMENT
Article continues below this ad
"I was trying to erase that stain out of memory [from the Goldberg match]. I've heard from so many people who think they know all about wrestling and what I should do, but no one has any idea how I grade myself. It's far more severe than people may think, and my expectations for what I do are higher than people think, too."
Fortunately, the Extreme Rules match with Shane, Drew and Roman helped Taker get over the disastrous dream match.
"So that was a fun night. We were all on the same page, we knew what the objective was, and that match was special. Roman and Drew are very special talents, two of the best at what they do."
ADVERTISEMENT
Article continues below this ad