"I Don't Know Who I am Anymore"- Roman Reigns Breaks Down in Tears During Hell in a Cell Showdown with Jey Uso
Published 10/25/2020, 8:32 PM EDT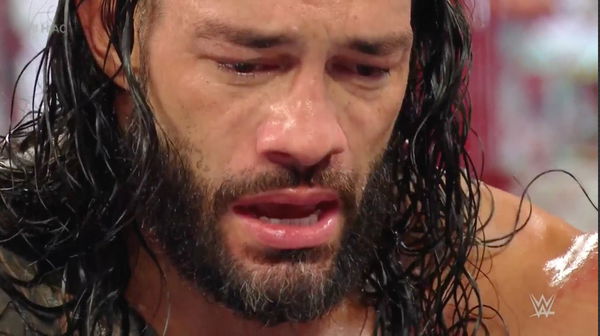 ---
---
Roman Reigns retained the WWE Universal Championship in an incredibly emotional match. The Big Dog was reduced to tears during the match, in what was a showcase of quality storytelling. The opener to the Hell in a Cell PPV will go down as one of the finest stories told in modern wrestling.
ADVERTISEMENT
Article continues below this ad
ADVERTISEMENT
Article continues below this ad
The story of the match
Roman gained control in the beginning, ragdolling Uso around the ring. Uso managed to fight back with a roundhouse kick and suicide dives into the wall of the cell. However, Roman fought back with just one move: a devastating spear.
Reigns remained in control for most of the match, cutting off Jey Uso's comebacks with one vicious spear after the other. Jey Uso blocked a fourth spear and got out a leather strap. Both men belted each other with the strap until Uso used it to choke out Reigns.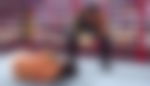 Reigns remained stubborn as ever, even saying to the referee, "The Head of the Family never quits." Reigns eventually locked in the guillotine choke that he employed to submit Braun Strowman. However, Uso passed out in the hold but did not quit.
Uso's stubbornness drove Roman to take some really extreme measures. He sandwiched Jey between the LED ring post and the steel steps, and connected with a vicious Drive-by dropkick that knocked Jey out cold.
Jey's refusal to quit angered Reigns even more, who pressed Uso under the steel steps and was about to decapitate him with it, only for Jimmy Uso to make the save. Jimmy threw himself on top of Jey's broken body and begged Reigns to stop the punishment.
Roman Reigns was reduced to tears
ADVERTISEMENT
Article continues below this ad
Jey's words to Reigns about brotherhood and love reduced the Big Dog to tears. Here is when all the pieces of the story fell into place. Reigns crumbled to his knees in a heap of tears.
This kind of emotion was unseen in Roman. The Big Dog has been largely unapologetic about his ruthlessness, but seeing the pain he caused Jey reduced him to an emotional wreck.
ADVERTISEMENT
Article continues below this ad
Just when the trio looked to have reunited, Reigns pulled Jimmy into the guillotine choke. To save his brother from being choked out by Roman, Jey finally quit.
The storytelling was the key focus of the match. The in ring action was decent at best, and the use of the cell was very limited. Although the match did not require the Hell in a Cell stipulation, it will probably go down as one of the most emotional matches in WWE history.