Roman Reigns Issues Statement after Dominating Jey Uso at Hell in a Cell
Published 10/26/2020, 12:49 PM EDT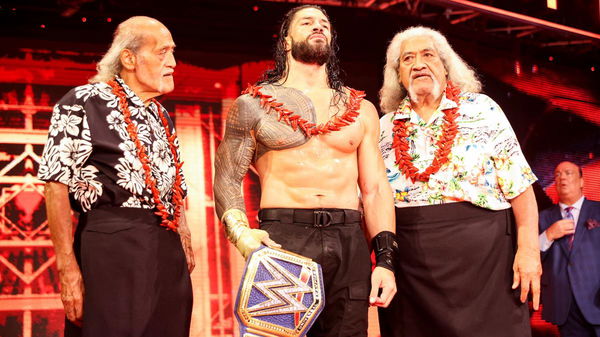 ---
---
WWE Universal Champion Roman Reigns retained his title against Jey Uso in a hellacious 'I Quit' match inside Hell in a Cell. Reigns promised consequences, and he delivered on that promise. After the match, he sent out a tweet referring to his new title as the head of the Samoan Family.
ADVERTISEMENT
Article continues below this ad
ADVERTISEMENT
Article continues below this ad
Roman Reigns' father Sika made an appearance
After the match, Reigns' father Sika and his uncle, Afa, walked out to the stage to congratulate him and acknowledge him as the 'Tribal Chief'. They embraced Roman and presented him with lei, which symbolized him winning the battle to become the Tribal Chief. Reigns' obsession with being the 'Tribal Chief' was finally fulfilled.
Afa and Sika were tag team partners and were called the Wild Samoans. They dominated the tag divisions in the WWF, NWA and wrestled in several of America's top promotions. Their gimmick as 'wild men' who beat their opponents viciously made them a huge draw in the 70s and 80s.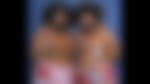 In the tweet, Reigns provided a less than brief explanation for his actions at Hell in a Cell. "For them, for you and for us," is all Roman had to say.
Reigns attributed his actions to the role he would play as the Head of the Family. By 'you', he meant his father Sika, by 'them' he referred to Jimmy and Jey, and by 'us', he meant the entire Samoan bloodline.
Story of the match
Roman did more than just brutalize Jey Uso at Hell in a Cell. He broke him, battered him, and knocked him silly on more than a couple of occasions.
Roman hit Uso with multiple spears, lashed him with a leather belt and even choked him out with the guillotine choke hold. He sandwiched Jey's head between the steel steps and the ring post, and delivered a Drive-By dropkick that seemed to knock Jey out cold.
ADVERTISEMENT
Article continues below this ad
Jey's refusal to quit did nothing but anger Roman more. He took Uso's stubbornness as disrespect and looked to end his career by smashing him with the steel steps. Suddenly, Jimmy Uso flung himself over his brother's body and begged Reigns to stop.
ADVERTISEMENT
Article continues below this ad
Watching Jimmy cradle his brother's head in his arms reduced Roman to a heap of tears. Just when the trio were about to reunite, Roman pulled Jimmy into the guillotine choke. To save his already injured brother from suffering the same fate as him, Jey Uso finally quit.
Roman Reigns is now the top dog of Smackdown as well as the head of the Samoan Family. He is the Tribal Chief and The Usos will now be at his beck and call. It is safe to say that Roman Reigns and his bloodline will be running Smackdown. Like he said, "I did it for you, for them and for us."