Why Did Brock Lesnar Throw The WWE Championship At Vince McMahon?
Published 07/23/2020, 10:50 AM EDT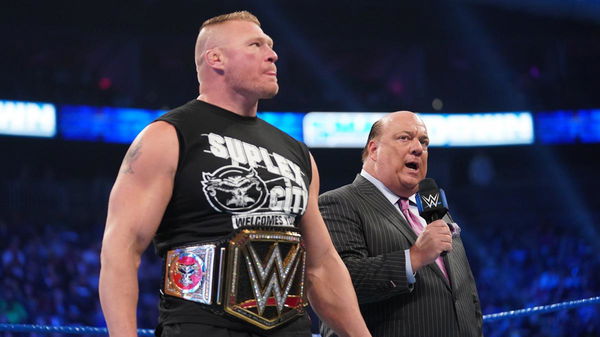 After his match at WrestleMania 34, "The Beast Incarnate" Brock Lesnar did one of the most audacious things in WWE history. The backstage crew was shocked at what they had just witnessed.
ADVERTISEMENT
Article continues below this ad
Brock Lesnar would face Roman Reigns in a huge match at the main event that year. He had the task of defending his Universal Title against "The Big Dog".
ADVERTISEMENT
Article continues below this ad
The match was a long and gritty encounter. Both Superstars beat the pulp out of each other. Reigns kicked out of more F5s than Lesnar could tolerate. No amount of Spears seemed to put Lesnar down either.
Frustrated, Lesnar took off his gloves and proceeded to punch a downed Reigns. This was similar to what he did to Randy Orton a few years earlier.
Catching Reigns with an elbow, he busted open his opponent. Before we could process what was happening, Reigns was bleeding. There is no exaggeration, the blood was dripping!
Roman Reigns managed to fight his way back but it took him a while to realize how badly he was bleeding. Trying to deliver a final spear, Roman Reigns got caught by Lesnar who delivered a final F5, pinning Reigns and winning the match.
Brock Lesnar went backstage and did the unthinkable
Many thought that Lesnar would be a happy man, beating the likes of Roman Reigns. However, this was not the case at all. 
When he went backstage, Lesnar threw the Universal Title straight at Vince McMahon's face! 
McMahon was sitting in his usual spot, watching the main event. Lesnar however, was enraged for some reason and chucked the title at McMahon. Paul Heyman followed Lesnar silently, not breaking character.
ADVERTISEMENT
Article continues below this ad
The reason for Lesnar's behavior was explained later. Apparently, Lesnar was supposed to lose the title that night to Reigns. This was so that he could pursue different interests outside WWE.
However, Vince McMahon changed plans at the last minute and decided that Lesnar would retain. Obviously enraged at this, Lesnar acted out. Not many can entirely blame him for his actions.
ADVERTISEMENT
Article continues below this ad
Brock Lesnar is known for his aggressive nature in the ring. He definitely did not appreciate the way Vince McMahon played and made it clear in the most defiant way he could. McMahon however, did not act on it and let it slide, surprisingly.
No one messes with "The Beast Incarnate," not even the Chairman of the company