Roman Reigns' Relationship With WWE Chairman Vince McMahon On and Off the Screen
Published 10/16/2021, 12:30 PM EDT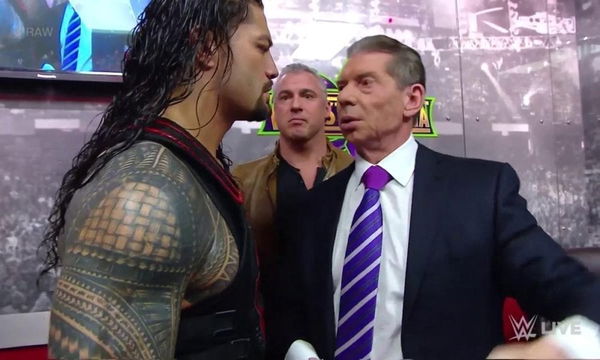 ---
---
Roman Reigns is arguably the top star in WWE right now. And a lot of credit goes to Vince McMahon for keeping his trust in Reigns. Vince McMahon gave Roman Reigns the push as the face of the company in his early days, much to the disappointment of the fans.
ADVERTISEMENT
Article continues below this ad
The fans did not accept Roman Reigns as the new face of the company as they showed their disappointment during his matches. However, Vince had full trust in Reigns and stuck to him, which ultimately led to the rise of the WWE superstar.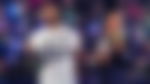 ADVERTISEMENT
Article continues below this ad
Reigns has not only main evented WrestleMania but also defeated The Undertaker at WrestleMania.
Even though Roman Reigns and Vince McMahon have shown hatred towards each other on TV, Reigns has nothing but respect for Vince.
Watch This Story: Brock Lesnar Stuns Roman Reigns, Sasha Banks Beats Becky Lynch: Best Moments from WWE SmackDown (Oct. 15, 2021)
Vince McMahon's on-screen rivalry with Roman Reigns
Reigns unleashed his fury on Triple H after his loss at WWE TLC: Tables, Ladders & Chairs 2015. Reigns hit Triple H with a Powerbomb on a broadcast table. Prior to that, he had even hit Triple H with a Superman Punch and also assaulted him with a chair.
But that was not it. Reigns had a lot left as he did an Elbow Drop through the broadcast table and followed it up with a spear. That did not go well with Vince McMahon and Stephanie McMahon.
Soon after this incident, we saw Vince McMahon ordering Roman Reigns to apologize by getting down on his knees. Two weeks later, Vince got arrested by the New York City Police department after he got physical with the officers.
Again, in 2018, we saw Vince suspending Roman Reigns following his comments about the WWE chairman. Reigns complained about the special treatment Brock Lesnar got following Lesnar's absence from WWE Raw on March 12, 2018.
Reigns claimed Brock to be Vince's boy and so there was no punishment for him for not showing up on Raw. Roman Reigns even addressed Vince McMahon as the real problem. Later that night, Vince McMahon temporarily suspended 'The Big Dog' for his behavior earlier that night.
Reigns talks about his real-life relationship with Vince McMahon
Despite playing on-screen rivals in 2015 and 2016, The Head of the Table has a great relationship with Vince McMahon in real life.
Earlier in an interview with The Daily Express, Roman Reigns had talked about his relationship with Vince McMahon and other members of the McMahon family.
Reigns has nothing but respect and praise for them. This might be a surprise for many after their heated segments on Raw back in 2015 and 2016. But the real-life relationship is way better than the on-screen one.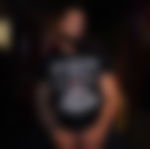 Roman said, "All the McMahons are great people and if you know them you get to talk to them on that level. It's very easy to see them, they're very personal and that's key – you have to build a relationship."
ADVERTISEMENT
Article continues below this ad
"I can't say Vince has ever done me wrong. Regardless of all the fantasy bookers out there, at the end of the day life's been pretty good for me in the wrestling business so I have to attribute a lot of that to the relationship that I do have with Vince and the way that he has always taken care of me," he added.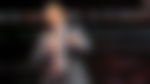 Roman Reigns also claimed Vince McMahon takes care of everyone as he acts as a provider and a protector. He said, "He takes care of all of us. To have that responsibility and that role is not easy – to be a provider and a protector and that's what he is."
ADVERTISEMENT
Article continues below this ad
Roman Reigns even feels grateful to Vince McMahon. So, no matter how bitter the relationship is on screen, it is indeed a pleasant one between Roman Reigns and Vince McMahon in real life.