Ruby Soho Drops Major Easter Eggs Regarding Her Future After WWE Release
Published 08/31/2021, 9:11 AM EDT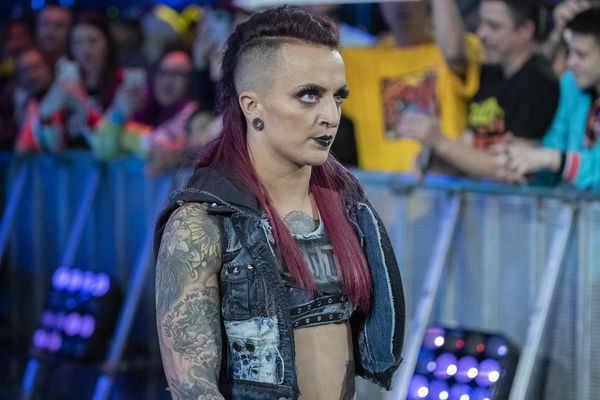 ---
---
Ruby Soho, formerly known as Ruby Riott, has been making waves ever since leaving WWE. The trend of superstars posting videos and branding is here to say. Ruby seems to have perfected the talent of creating intrigue amongst her fans. Fans have been patiently waiting to know what she will do next after her departure from WWE. It seems she will tease for longer, though.
ADVERTISEMENT
Article continues below this ad
She recently released a new video that indicates a few more Easter eggs for the fans to speculate. Ruby Riott had a pretty successful career in WWE. She definitely was very over with the fans. Her punk rebel character seemed very different and fresh from most other wrestlers. She was also part of a tag team that was loved by fans across the board. Hence, it was a surprise when she was fired and her bio destination unknown adds to the intrigue.
ADVERTISEMENT
Article continues below this ad
Ruby Soho and the Easter Eggs
Her new video shows her initially walking around on the streets of New York. She is listening to music with a song playing in the background, which is probably her new theme song. We can then see Ruby painting a wall with Spray can. As the police sirens go off and she leaves the scene, we find she was painting Heartless on the wall.
ADVERTISEMENT
Article continues below this ad
This is a very subtle callback to her time at the indies, where Ruby went by the name of "Heidi Lovelace". We again get shots of her seemingly enjoying her freedom, dancing and parading around the streets. In another scene, we capture walking past someone spray painting on a wall. As the Camera pans out, we notice it has "The Riot is over" written on it. This is a definite call back to her WWE days.
For the fans wishing that the answer to these riddles will be in this video, they are about to be disappointed. We observe Ruby stopping by a bar, where she is asked for her ID. Herein,we see a major Easter egg as she pulls out a card with Lovelace on it. Subsequently, she says that one is old, and she has a new one with her. Her latest one says Ruby Soho on it.
ADVERTISEMENT
Article continues below this ad
While handing the new card, one can see a shop named Tony there. This is more or less a confirmation that her character is fresh. There are reports she might debut at Arthur Ashe or at All Out in AEW. Wherever she lands up next, one thing is for sure. She is going to be a riot.