Sami Zayn Furious With WWE After Disappointing Survivor Series Outcome
Published 11/24/2020, 7:55 AM EST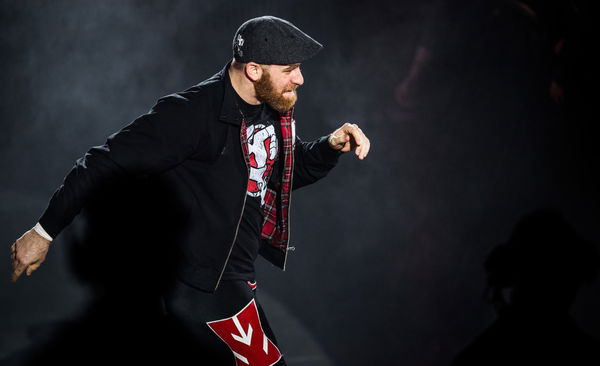 ---
---
At Survivor Series, Sami Zayn suffered a bitter loss to the WWE US Champion Bobby Lashley. The CEO of the Hurt Business and MVP were able to neutralize Sami's heel antics and walk out of Survivor Series as the superior champion.
ADVERTISEMENT
Article continues below this ad
Sami Zayn rants on the injustice against him
ADVERTISEMENT
Article continues below this ad
In an interview backstage, Sami Zayn went on a rant after his loss to Lashley. "Tell me how this is not an injustice carried out towards me. How is this not a conspiracy against me?" cried Zayn as he lamented over his loss.
"Not only did MVP trip me out there, and put his hands on me, he physically assaulted me and rolled me into the ring. Yet, there is no disqualification. Some how the referee was not able to pay attention, or do things just naturally go the way of the US Champion."
Zayn then accused the United States Champion of trying to diminish the value of the Intercontinental Title. He called the injustice against him the most 'American' thing that could happen. By becoming the Intercontinental Champion, Zayn now believes he represents every other country that is not the United States of America.
Zayn accuses Lashley of robbing the people of the world
"This isn't about me, you did not rob me of anything. You robbed them," Zayn accused Lashley and the Hurt Business of robbing every single Sami Zayn fan from across the world.
To emphasize his point, he went on to repeat his point in French, Spanish and Arabic. "That's what they say about me all across the world- He's our champion."
Sami Zayn wishes that Bobby Lashley and the Hurt Business get bitten by karma for screwing the millions of fans of the Intercontinental Champion. "I promise that I will make this right," said Zayn before continuing to languish.
Sami got a much deserved comeuppance at Survivor Series
ADVERTISEMENT
Article continues below this ad
Sami Zayn represented SmackDown at Survivor Series. He won the Intercontinental Championship in an insane ladder match at Clash of Champion against AJ Styles and Jeff Hardy. He walked into Survivor Series with a huge chip on his shoulder to face the almighty Bobby Lashley.
ADVERTISEMENT
Article continues below this ad
Sami spent most of the match trying to avoid Lashley's power game. Zayn kept up with his cowardly heel antics, but was eventually caught with a huge one armed spinebuster. This seemed to do the job for Lashley, but Zayn rolled out of the ring to avoid the US Champion.
Unfortunately for Sami, MVP was there to ensure Sami would continue the match, who eventually tapped out to the Hurt Lock.