"Samoa Joe was Just Very Physical"- Kurt Angle Reveals his Best Match Outside of WWE
Published 05/24/2021, 9:51 AM EDT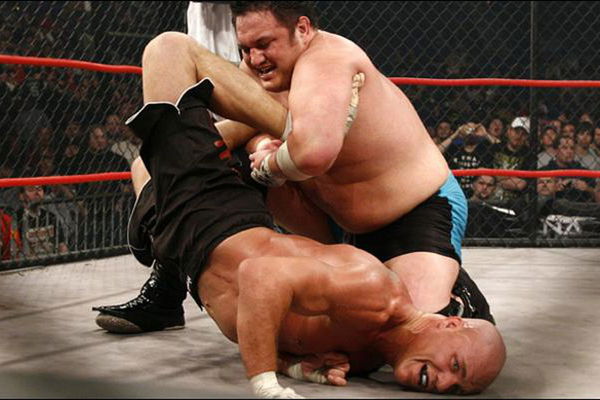 ---
---
Kurt Angle has had a ton of superb matches in WWE, making him one of the GOAT's. However, his career post-2006 isn't too shabby either. In TNA, Angle wrestled a few classics against the likes of AJ Styles, Christian Cage, Sting, Mr. Anderson and, of course, Samoa Joe.
ADVERTISEMENT
Article continues below this ad
Kurt Angle recalls Lockdown match with Samoa Joe
ADVERTISEMENT
Article continues below this ad
In TNA, Samoa Joe established himself as the most dominant wrestler on the planet. With his Ring of Honor credits to fall back on, he challenged Kurt Angle in the category of the greatest of all time. Before his career blew up in NXT and WWE, Joe faced Angle in a mammoth clash at Lockdown 2008.
Angle and Joe met in a steel cage match, which TNA dubbed the 'Six Sides of Steel'. After seventeen minutes of bone-crunching strikes and muscle-tearing submissions, Joe submitted Angle to become the new TNA World Heavyweight Champion. On the Kurt Angle Show, the former Olympian commented on the incredible match.
"Well, that is one of my favourite matches outside of WWE. That's the one I was gonna talk about if I didn't pick Yuji Nagata. And Samoa Joe was just very physical. You know you're in for a hard night when you're wrestling Samoa Joe. Because he's going to lay everything in, and he's a big dude. He comes really hard."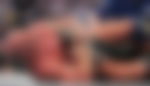 "I like that type of wrestling; I love physical wrestling." Angle continued, "I was right there with him doing it."
Joe vs Angle's brutal rivalry
Samoa Joe vs Kurt Angle was clearly the best rivalry of 2006. While John Cena vs Edge had an intense storyline with Edge attacking Cena's father, Joe vs Angle only had pure wrestling and some intense storytelling that revolved around who was the better wrestler.
ADVERTISEMENT
Article continues below this ad
Angle made his TNA debut in 2006, and within a month, he beat Samoa Joe at Genesis 2006. Joe got his revenge at Turning Point, submitting Angle with the Coquina Clutch.
A thirty-minute Iron Man Match settled their rivalry for a while after Angle beat Joe, but it kicked off once again in 2008.
This time, Angle cemented himself as the top star in TNA, dethroning Joe as the face of the company. Determined to prove Angle was an afterthought, Joe made it his life's goal to beat Angle and take back the TNA Heavyweight Championship. He beat the Olympian at Lockdown 2008 and ended their incredible rivalry for good.
ADVERTISEMENT
Article continues below this ad