"Book it Vince!"- Sasha Banks Gets Into a Friendly "Wrestling Match" With Her Dog
Published 12/02/2020, 6:56 AM EST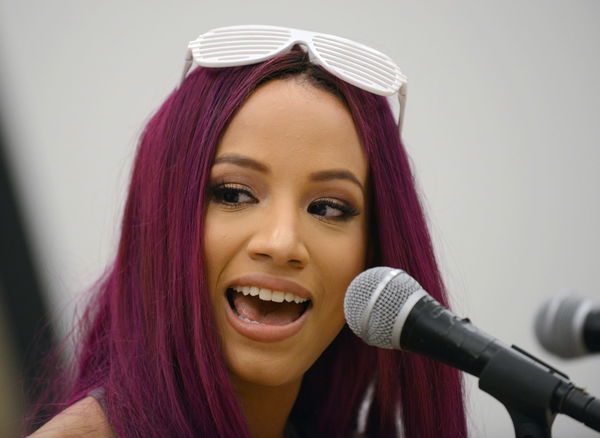 ---
---
WWE SmackDown Women's Champion Sasha Banks posted an adorable video on her dog's Instagram handle. The video shows Banks playfully wrestling her dog Ryu while her husband Sarath Ton provided commentary.
ADVERTISEMENT
Article continues below this ad
Sasha Banks wrestles her dog Ryu
ADVERTISEMENT
Article continues below this ad
Sasha's dog is a Corgi, and is only a year old. She purchased the dog while it was still a puppy, while she was on hiatus from WWE. After losing the Women's Tag Team Championships at WrestleMania 35, Banks took a six-month hiatus before returning in October to challenge Becky Lynch for her Raw Women's Championship.
Ryu Maivia, has even made appearances in WWE. He recently appeared on NXT during the Great American Bash. Bayley cradled him in her arms while Sasha stole the show in a brilliant match against Io Shirai.
Ryu means dragon in Japanese, while Maivia is a Samoan surname. This means Ryu shares the same surname as Peter Maivia, Dwayne 'The Rock' Johnson's grandfather, and the rest of his legendary wrestling clan. That is a mighty name for a tiny Corgi.
Banks posted a video to Ryu's Instagram account. Here, Ryu is expertly targeting Sasha's left arm, while the Boss tried to outwrestle the technically proficient Corgi. She even captioned the post 'Me vs my momma @sashabankswwe . Wrestlemania 37. Book it vince!!!'
A Boss-level year for the Boss
ADVERTISEMENT
Article continues below this ad
Sasha Banks is at a fine stage in her WWE career. The SmackDown Women's Champion has established herself as the face of the women's division by beating Asuka at WWE Survivor Series 2020.
The Boss has been in stellar form throughout 2o2o. She and her former best friend turned bitter rival Bayley lit up Raw, SmackDown, and even NXT with some brilliant performances inside the ring and outside. While Bayley might be the MVP for 2020, Banks delivered on the same level, and by the end of this year will even outshine Bayley as Superstar of the Year.
Banks has put on some classic matches in 2020. Her match against Bayley is a potential Match of the Year candidate. Her series of matches against Asuka were all brilliant in a different way; each being better than the previous. She even killed it in NXT against Io Shirai. Their match was significantly better than the historic Keith Lee vs Adam Cole match from the following week.
ADVERTISEMENT
Article continues below this ad
Sasha has already found a new challenger in the returning Carmella. It is unlikely that the former Princess of Staten Island will snatch the title from the Boss, but Sasha will be able to elevate her with another incredible performance.