SCAM: WWE Legend The Undertaker's Alleged Grandma Isn't His Grandma at All
Published 03/22/2022, 3:00 PM EDT

Follow Us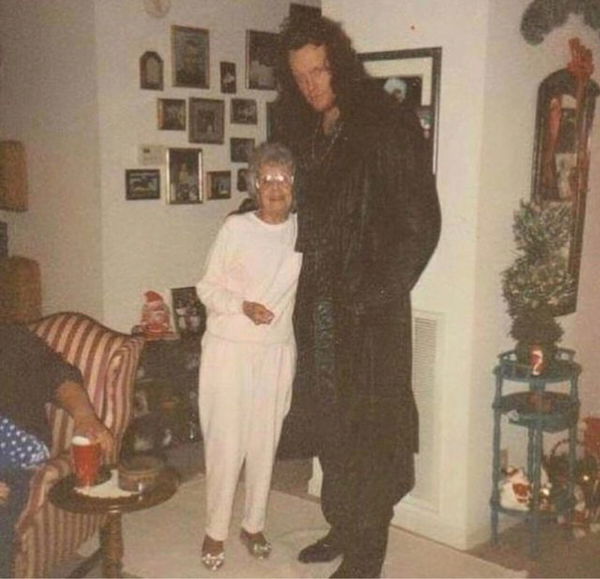 WWE legend The Undertaker finally spoke about the famous picture of him with an older woman. Years ago, way before the internet, Mark Calaway, aka The Undertaker, was spotted with a lady at her house. For decades, the wrestling world assumed that Taker had clicked a picture with his grandma. But that was all a lie!
Recently, The Undertaker was invited as a special guest on Ryan Satin's Out Of Character podcast. The host asked The Phenom about the most iconic image outside the wrestling ring. The Undertaker revealed about the photo in which he was standing next to an old lady in her living room.
Even The Undertaker did not know with whom he clicked a picture!
ADVERTISEMENT
Article continues below this ad
Mark Calaway was spotted in his entire wrestling attire with this older woman. But Taker has no clue who that woman was.
The Undertaker said, "The funny thing about this is I've no clue who that is. I honestly have no idea who that is and why I'm in that lady's house (laughs). I have seen that picture many times, and it's always either my mom or my grandmother – I got no clue."
"But you can tell, yep, that's the way I dressed, that's the way I looked, there's no smile. If that was Nana, I'd at least have some kind of smile," Phenom added.
The Undertaker was the one man in the wrestling industry who would break his character even outside the arena. And, even in this picture, Deadman stayed in his in-ring persona when he met the unknown older woman.
Staying in character was a part of The Phenom's life
Ryan Satin asked Taker if it was his real grandmother would he visit her in the wholesome Undertaker gear.
"By the time I became Undertaker, my grandparents had passed. So, I don't know what they would have thought. But, yeah, I didn't smile a lot," The Deadman responded.
Soon-to-be WWE Hall of Famer stated that he was trying to live his character outside the squared circle. He also mentioned that when he clicked with his family and mother, Phenom would just stay in his in-ring character.
ADVERTISEMENT
Article continues below this ad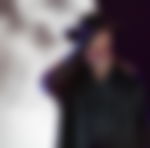 Taker said, "Even in a lot of my family photos, my mom's photos, all the brothers are there together there. I am stone-faced, and it became a part of me."
Mark Calway, during the conversation, clearly mentioned that the viral photo with an older woman was not his mother nor his grandma.
ADVERTISEMENT
Article continues below this ad
Watch This Story: Crushing Hulk Hogan to Conquering The Undertaker: Brock Lesnar's Carnage in WWE
According to The Undertaker, his wrestling persona has stayed with him throughout his life. Now, the WWE will respect his legacy at the 2022 Class of Hall of Fame on April 1st in Dallas.