Seth Rollins Makes a Comparison Between Roman Reigns and Cesaro Prior to WrestleMania 37
Published 04/05/2021, 12:56 AM EDT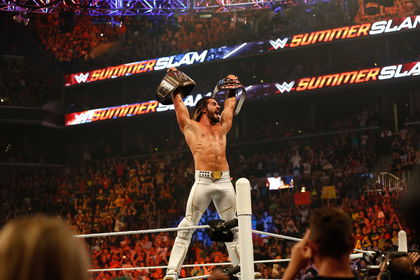 ---
---
Seth Rollins and Roman Reigns have a storied history. For starters, they were a part of The Shield, which dominate WWE and launched both stars into the stratosphere. Post that, they had multiple rivalries that main-evented various pay-per-views. However, it's been a while they've been seen together, but Rollins holds nothing but praise for his former faction member.
ADVERTISEMENT
Article continues below this ad
"There are people who are on my level. Roman Reigns is on my level. There are people who understand it. Paul Heyman has been around greatness his entire career. There are people who understand that… who get greatness. I'm one of those people."
Not only did Rollins praise Roman Reigns, but he also compared the 'Tribal Chief' to Cesaro. His primary objective of praising Reigns was to take a shot at Cesaro for not being good enough to compete at their level.
ADVERTISEMENT
Article continues below this ad
"The thing about Cesaro is… and I said it last night. There are levels, okay? There are levels and there is a reason that Cesaro has never had the spotlight at WrestleMania. A reason! Do you know what that reason is? Do you understand what that reason is? That reason is because he is not as good as me."
Apart from calling out Cesaro for not being good enough, Seth Rollins gave his opinion on Cesaro's abilities as a Superstar and a pro-wrestler.
"I have been, since the moment I stepped foot in WWE. And my track record at WrestleMania and every other event this company's ever put on holds that to be true. Cesaro on the other hand has been a wealth of potential. Potential, potential, potential. Yadda, yadda, yadda. Potential is c**p. It means nothing unless you deliver." H/t SKWrestling.
Read More: Seth Rollins, Roman Reigns, Dean Ambrose: The Rise and Fall of The Shield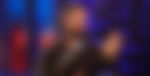 The feud between Seth Rollins and Cesaro
Seth Rollins has the chance to prove he is better than Cesaro at WrestleMania 37 where the duo has been booked for a match.
On a recent episode of SmackDown, Rollins returned and addressed the locker room. He proposed that the others accept him as the leader. Everyone walked away, but Cesaro voiced his displeasure. Of course, Rollins did not appreciate that and attacked Cesaro.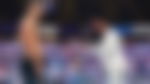 ADVERTISEMENT
Article continues below this ad
Cesaro and Seth Rollins have been feuding since the latter's return at Royal Rumble. Rollins asked Cesaro to join forces with him, but Cesaro revolted and attacked Rollins.
The feud gained momentum each time Cesaro applied the Cesaro Swing on Seth Rollins. The swings went on for a considerable amount of time. So much so, that officials had to interfere and check on Seth Rollins.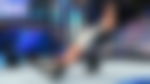 ADVERTISEMENT
Article continues below this ad
Now, the WWE Universe will get to know if Seth Rollins can live up to his claims about himself.