Shane McMahon Injured! Braun Strowman Destroys Elias at WWE Fastlane 2021
Published 03/21/2021, 8:18 PM EDT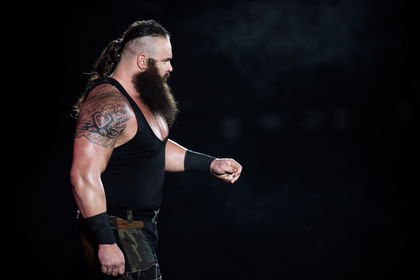 ---
---
Braun Strowman was out to make a statement at Fastlane 2021 tonight. Although Strowman could not get his hands on Shane McMahon, he made sure his replacement suffered enough.
ADVERTISEMENT
Article continues below this ad
Shane-O-Mac was scheduled to face Strowman in a highly promoted match. WWE marketed it as Shane's big return to the ring! That too against the 'Monster among Men' following weeks of animosity on WWE RAW.
ADVERTISEMENT
Article continues below this ad
Tonight, Shane was inside the ring but on crutches as he suffered from some injuries while training earlier. He was in the ring with Ryker and Elias for a 'WrestleMania 37 preview' concert.
But he soon informed Elias that he will be Shane's replacement and was to face Braun Strowman. Before Elias could protest or even react, Braun was out to get him.
Braun Strowman dominated Elias during their match at Fastlane 2021
Elias was obviously having a hard time coming in terms of the fact that he was facing Strowman. Although his buddy, Jaxon Ryker tried to provide some distractions Strowman was in control from the very beginning.
Strowman beat Elias across and around the ring for a while. He continued to choke Elias and went on to charge him at the corner but Ryker pulled Elias to safety.
Unfortunately, this protection did not last long. Strowman collided with Elias at the ringside and they took it to the ring again. This time, Elias got a small opening and hit Strowman with back-to-back offenses. Following a DDT, Elias went to the top rope and hit a flying elbow for a pin attempt.
Strowman kicked out of the pin attempt, much to Elias's shock! Strowman came back strong with a huge chokeslam in the middle of the ring and closed the show with his signature finisher Running Powerslam for the win.
ADVERTISEMENT
Article continues below this ad
As Elias recovered in the ring with Ryker, Strowman went up to the ramp proudly. Although he got his win over Elias tonight, from his face it was evident that Strowman wants more!
Do you think Strowman will finally face Shane McMahon in the future following the latter's undisclosed injury? Or is it the beginning of a new rivalry between him and Elias? Let us know in the comments below.
ADVERTISEMENT
Article continues below this ad