Shawn Michaels Did a Huge Favor to Kurt Angle at WrestleMania 21
Published 05/10/2021, 11:34 PM EDT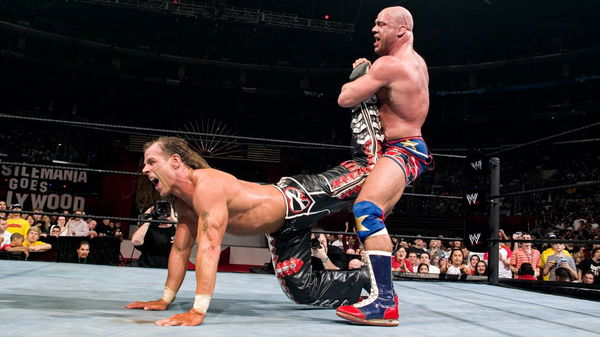 ---
---
Throughout his career, WWE Hall of Famer Kurt Angle was a part of various feuds and headlined many PPVs. However, one of his most memorable matches was against fellow Hall of Famer Shawn Michaels.
ADVERTISEMENT
Article continues below this ad
The duo started feuding after Royal Rumble 2006, and their rivalry culminated at WrestleMania 21. The match saw The Olympian emerging as the winner following an Ankle Lock.
Often considered the match of the year, Michaels received a standing ovation from the crowd after his defeat.
ADVERTISEMENT
Article continues below this ad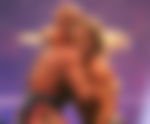 Looking back at this, Angle recently revealed in his podcast how they came up with the finish. Angle also said he was touched when Michaels suggested that he would "put him(Angle) over."
Usually, Vince McMahon or the creative team comes up with finishes. But this time, it was completely up to the two men. "Shawn came to me and said, 'We don't have a finish for WrestleMania, but I think you should go over by tap out and this is why," Angle said. "I think you're gonna do a program with Batista, and we need to make you look really strong.'"
"I was like, wow. Shawn Michaels just basically said he's gonna do a job for me. I was pleasantly surprised and didn't know if he was serious. It showed me that it respected me, and he knew we would have an incredible match. It wouldn't matter whether he won or lost."
The feud with Batista never took place. However, at that time, Angle was floored by Michales' genorisity.
Kurt Angle was awestruck with the standing ovation for Shawn Michaels
After the match, Angle left the ring. But Michaels received a standing ovation from the crowd, and he thanked the fans back. Angle said it was completely impromptu.
The duo went over their time by two minutes, and Angle hurried to clear off the ring. Yet, fans took this as an opportunity to thank the Heartbreak Kid.
ADVERTISEMENT
Article continues below this ad
"Shawn gracefully accepted to, and it was really cool," Angle revealed. He had only seen a standing ovation a couple of times. One of them was his World title match against Chris Benoit at Royal Rumble, back in 2003.
"When you get that kind of reaction from the crowd, that's about respect," he said further. "There are 20,000 fans there who absolutely love Shawn and his performances." With the standing ovation, Angle concluded it was the perfect finish to a match.
See Angle's full statement below –
ADVERTISEMENT
Article continues below this ad