The Undertaker has kept a cold demonic presence in the WWE ring. However, The Phenom in real life is a humble man who loves the wrestling business and respects everyone's talent. This became evident when Straight Edge Wrestling posted this tweet on May 18.
The Undertaker on wanting to work with Aj Styles in 2018

"He gets it. He reminds me of Shawn" #TheLastRide pic.twitter.com/NSSe6Gco8E

— Straight Edge Wrestling (@SEW_Podcast) May 17, 2020
As seen in the clip, the Deadman has been impressed by AJ Styles wrestling work since 2018. Taker said, "One guy here that I missed that I would have loved to have worked with AJ. He gets it, he really does. He reminds me a lot of Shawn."
This is an enormous compliment, considering the history between Shawn Michaels and the Phenom. The Deadman considers Shawn to be one of the best wrestlers. Michaels brought the company to the 'Attitude era' which popularized wrestling throughout America and Michaels has given all star performances with legends such as  Scott Hall, Chris Jericho, and the Undertaker himself on a regular basis.
But if someone takes a look at AJ Style's resume they would think that the comparison made by the Phenom Is justified. AJ has been the top guy of TNA as well as New Japan Pro Wrestling. He has competed everywhere and has become more popular than Shawn in some places like Japan. AJ is truly the Shawn Michaels of this era in terms of both charisma and impact.
AJ Styles and the Undertaker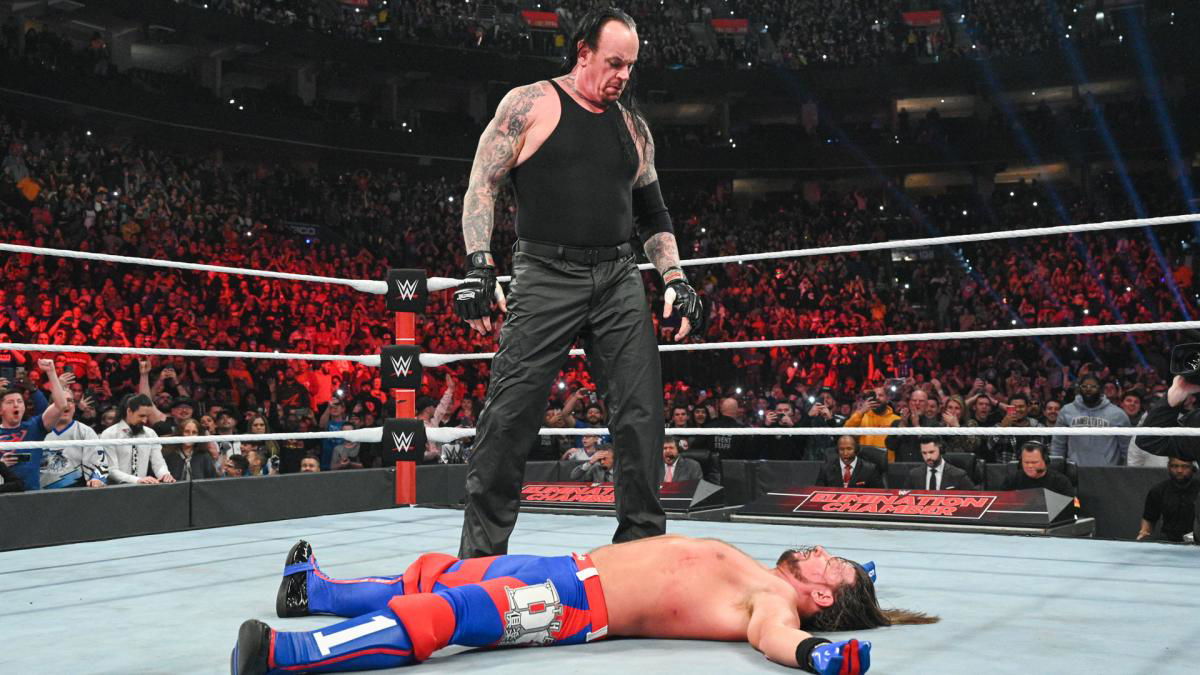 Taker's wish to compete against AJ Styles became a reality this year at WrestleMania 36. As reported by Wrestle Talk, a WWE official confirmed that it was the Phenom who asked for a match between the two, because he saw Styles as a modern-day Shawn Michaels.
They both competed in a Bone Yard match which saw the Deadman coming to the ring as the American Badass but transforming into the Phenom persona later. It was a cinematic ride that was critically acclaimed by both experts and fans. That match ended with the Undertaker murdering AJ Styles as he buried him in the ground.
Recently, on Raw, there have been hints of a rematch between the two. In a segment, Styles was shown throwing popcorn at the television as he watched the 'Last Ride'. The Deadman has recently signed a 15-year contract with the company. This means that the Deadman and Styles will have plenty of time to have a rematch.
However, it seems probable that the Deadman would face the Phenomenal One at Survivor Series. The Deadman started his career at the pay-per-view in 1990 when he joined Ted DiBiase's team. Having Styles and Taker seems to be the rational choice to celebrate the Undertaker's 30th anniversary.
Whatever the case might be, the fans need to be patient to see what Vince McMahon has planned for his old friend.