Ric Flair Issues a Shocking Statement On His Retirement Match
Published 07/30/2020, 10:34 AM EDT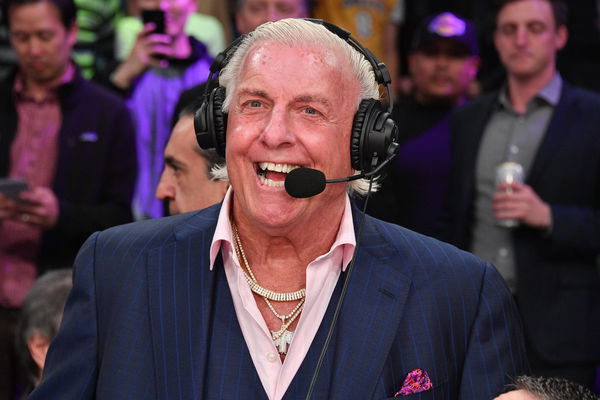 In a recent interview, WWE Hall Of Famer Ric Flair talked about his final match in WWE against Shawn Michaels. He revealed some pretty interesting information about the match, that he claims was pivotal to making it a success.
ADVERTISEMENT
Article continues below this ad
Ric Flair was set to fight his last battle at WrestleMania 24 against HBK. This would put an end to a career lasting over 20 years.
The living and fighting legend Flair was all set to wave goodbye for the last time. 
ADVERTISEMENT
Article continues below this ad
However, he says that the success of the match depended on Michael's Efforts, the detail of which he expresses in the interview.
"Well, I had no idea it would be that good, number 1. Number 2- Shawn carrying me. I mean it was like, I was in the ring but Shawn was doing it all," admits Flair. "And for the first time in my entire life he actually looked at me in a move we call 'gorilla' which is where we all stand before we go out, he said 'Just shut up and listen to me. Don't say a word'."
Flair was quite taken aback by these statements. However, he seems to have understood just where he stood alongside Michaels.
Ric Flair credits the success of the match to Shawn Michaels
"And no one would ever tell me that in my life except maybe Harley Race you know, but he did all the work and I just, I was there and I'm not ashamed to admit that for a second," says Flair.
Shawn Michaels gave Ric Flair one of the most emotional farewells in WWE history. After a gritty fight, Ric Flair got back up and opted to go out fighting like a true wrestler.
HBK then delivered a final Sweet Chin Music to Flair, pinning him and closing the curtains on his career.
The stunning part of the match was that the audience was very emotional. There were tears and cheers for Ric Flair's farewell as he walked down the ramp of WrestleMania.
ADVERTISEMENT
Article continues below this ad
This was a reaction that wasn't seen since Randy Savage's reunion with Elizabeth!
"He worked for both of us, but the people bought it and you had no idea that the reaction would be that big. And after the night before with the Hall Of Fame and then the next night with RAW and I think it's the most special retirement that I've ever seen in sports and whether you're in Canton, Ohio or Cooperstown for Baseball or you know, it was amazing."
ADVERTISEMENT
Article continues below this ad
Flair will go down as one of the best Superstars to ever grace WWE. He does make appearances from time to time and never breaks character for anything. "The Nature Boy" may have left the fight, but he still has the fight left in him.
Source: Inside The Ropes YouTube