Should WWE Renew Ronda Rousey's Expiring Contract?
Published 02/08/2021, 8:30 AM EST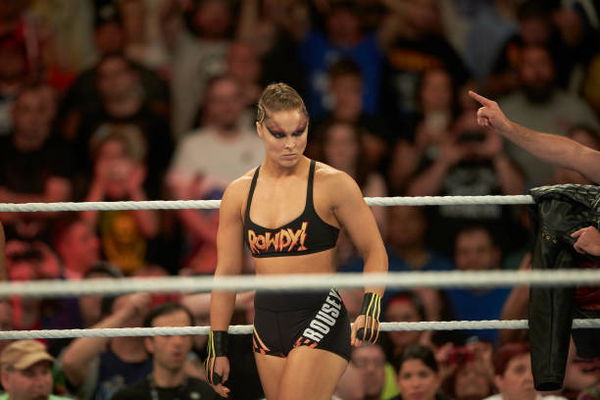 ---
---
Ronda Rousey had the best rookie year of any athlete in WWE history. The former UFC Champion went from debuting at WrestleMania 34 to main eventing WrestleMania 35. Everything between the two milestones in her career was also nothing short of excellent. The former Raw Women's Champion has been absent since dropping the title to Becky Lynch in 2019, but is there a return in sight?
ADVERTISEMENT
Article continues below this ad
Why should WWE extend Ronda Rousey's contract?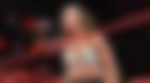 ADVERTISEMENT
Article continues below this ad
Ronda Rousey's WWE contract expires at WrestleMania 37. This means the former champion is still under contract, but she seems far from making a return. Frequently Rousey has claimed that she will not be coming back to the WWE.
Her in-ring work was extremely impressive for a rookie, and she was improving at a rapid pace. Rousey's matches against Nia Jax, Charlotte Flair, Sasha Banks and Nikki Bella were terrific for a rookie wrestler. Her rivalry with Becky Lynch might have been corny, but it delivered some of the most iconic moments in both women's WWE careers.
If Rousey ends up returning, the dream matches for her are plenty. Rhea Ripley would pose an enormous challenge to the former UFC Champion, as would the 2021 Royal Rumble winner Bianca Belair. A rematch with Sasha Banks would also be a treat to watch. And of course, a one-on-one match with Becky would bring the house down.
It becomes a dilemma for WWE, whether to renew her contract. No doubt Rousey is a sensational athlete and a top draw for the company, but the disrespect she's shown towards the company is quite troubling.
Why shouldn't WWE bring back Ronda Rousey?
ADVERTISEMENT
Article continues below this ad
In August 2020, Rousey called WWE 'fake' and delivered some harsh words to the WWE Universe. If the fans remember her statements, one can expect a very hostile reception to Rousey if she steps back into the ring. In an interview with Stephanie Chase, Rousey expressed her displeasure for WWE's schedule. "I do not miss it all, it was the absolute worse," said Rousey.
The women's division flourished when Rousey was part of WWE and saw a significant decline once she left. However, WWE can fill that gap with NXT talent and call-ups, instead of bringing back a superstar with no passion for the business.
Rhea Ripley, Dakota Kai, Raquel Gonzalez, Toni Storm and Candice Le Rae can easily step into a top babyface or top heel role on Raw or SmackDown. Would WWE benefit from bringing Rousey back? Yes, they absolutely would. Do they need Rousey back? Not really.
ADVERTISEMENT
Article continues below this ad