HILARIOUS: Otis Strips Miz Naked on WWE SmackDown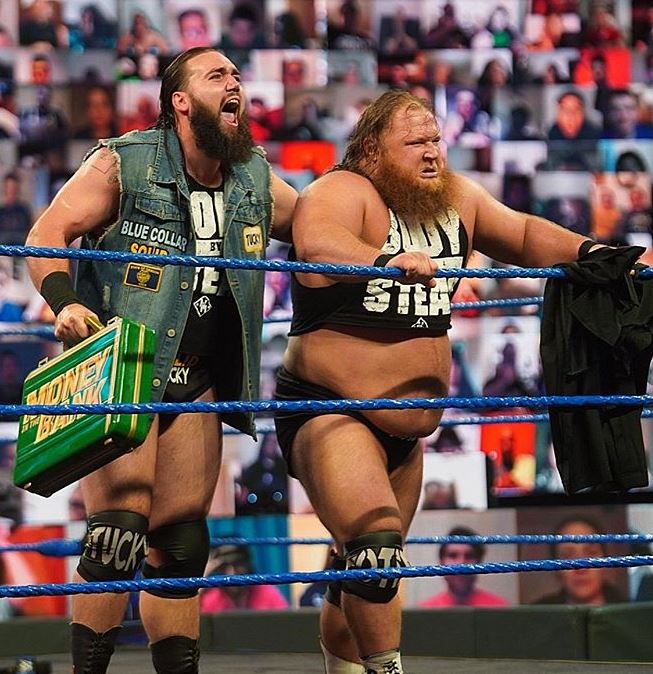 Otis has had a tumultuous few weeks on the personal front. His 'Beautiful Peach' is no more with him and has been traded to Monday Night Raw.
Tonight's SmackDown started with the latest edition of Miz and Morrison's controversial show, 'The Dirt Sheet.' The duo wanted to speak on many topics but unsurprisingly, the topic they chose first was Mandy Rose.
Miz claimed on Talking Smack last week that he did a favor by playing a part in Rose's trade to Raw. The A-lister felt that Otis didn't have the concentration required by a 'Money in the Bank' winner because his girlfriend was around.
Morrison then poked fun, saying Dolph Ziggler was on Raw and they want to do more than "smell that rose over there." That was enough to infuriate Otis as he ran down to the ring to attack the duo.
After @mikethemiz masterminded @WWE_MandyRose's move to #WWERaw, @otiswwe went ahead and got himself some sweet payback. #SmackDown @tuckerwwe @TheRealMorrison pic.twitter.com/Bdiwpd1eXS

— WWE (@WWE) September 19, 2020
Miz tried to run but Tucker shoved him back into the ring, as Otis then delivered his trademark 'Caterpillar.' This was when we saw the funniest thing on SmackDown in weeks – Otis stripped Miz down to his white underwear!
🤣 🤣 🤣#SmackDown @otiswwe @tuckerwwe @mikethemiz @TheRealMorrison pic.twitter.com/kp0MUjgXdx

— WWE (@WWE) September 19, 2020
Also Read: WWE Fans Confirm the Identity of Another Retribution Member
Otis teases Money in the Bank Cash-in
Otis has held the 'Money in the Bank' briefcase since May. In all these months, Otis has never tried or even been close to cashing in the contract. There was just the one time he had his eyes on then Universal Champion Braun Strowman.
Late last week, Miz bragged about playing an important part in sending Mandy Rose to Raw and justified it as helping Otis. A few days later, Otis responded with the following tweet.
Ohhh NO MIZ👉🏻

With the LOVE, TRAINING, AND SUPPORT of My Beautiful Peach 🍑 @WWE_MandyRose, My BIG Brother @tuckerwwe and My Training Coach @WWEGable

We're Movin' Mountains and When The Day COMES to Cash 💰 IN

I'm COMINNNNNNN' for The @WWE Universal Championship https://t.co/w3TYAvT7lI

— OTIS (Dozer) (@otiswwe) September 14, 2020
It will be interesting to see what WWE has in store for Mandy Rose and Otis with WWE Clash of Champions just on the Horizon.