Fans Disappointed With WWE 2K Battleground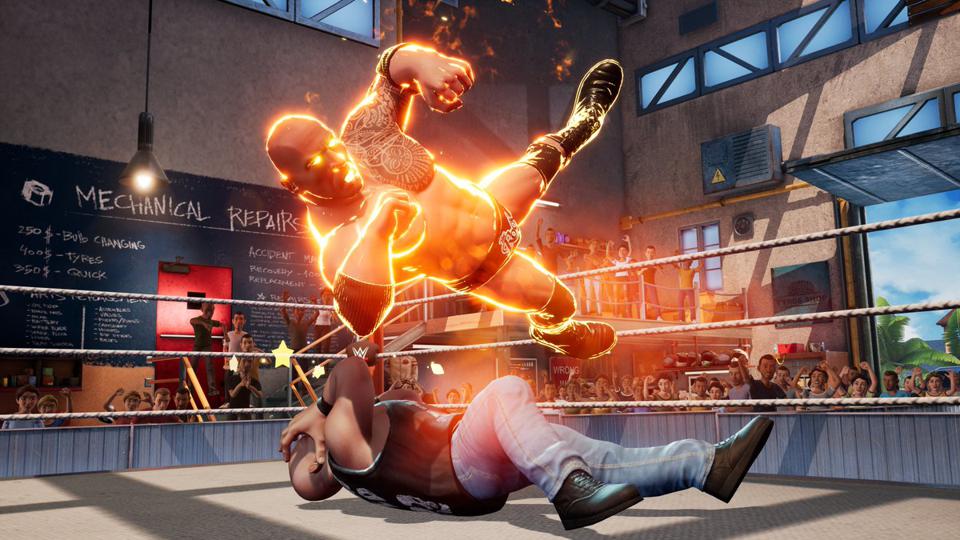 https://twitter.com/LiamFromYouTube/status/1308089942246141953?s=20
https://twitter.com/TheDarknight707/status/1308099449982337024?s=20
WWE 2K Battlegrounds has been on choppy waters since its release and its apparent that a lot of things need to be fixed in the game. On Twitter, a lot of fans are complaining about the newly launched game.
Battlegrounds was supposed to be the revolutionary game for the company. Following the failure of the hyped 2K20, WWE made it a priority with 2K to make Battlegrounds a better game.
Fans expected a lot of upgrades from 2K20 in graphics and gameplay. However, it seems as if the old demons will return to haunt the game.
OK, so four days ago I purchased WWE 2K battlegrounds send the reward system has been broken on PS4 since launch. I would like a refund, considering the game does not work properly. Is there any way you can help?

— THE O.H.G. (@TheRealOHG86) September 21, 2020
There have been numerous reports of the game lagging during crucial moments of the match. One could argue that the system of an individual's arrangement cannot adequately support the game.
However, the reports of the same issue have been consistent. This is not the only problem the game is having so far.
Ugh how did we go from 2K19 (great game) to 2K20 (crap game) to this? Battlegrounds looks like a cheap PS2 game you buy out of the bargain bin at Walmart for $5. Really wish WWE would hand the rights to a different publisher so 2K would quit emptying their ass all over the series

— The Dude (@Thedudeabides93) September 21, 2020
Players argue that their progress gets reset to zero many times, and all saved data is erased for no given reason. This is a very frustrating issue, especially for gamers.
Honestly, I'm still annoyed that @XboxSupport denied my refund request for WWE 2k Battlegrounds, despite the fact that the game runs terribly in tag matches and crashed my Xbox.

— Ian (@ShepCommandr) September 21, 2020
Various sites have even launched support pages to deal with crashes in the game. It isn't really having the best time. Even though the game is receiving a lot of hate, it is also winning its fair share of praise.
WWE 2K Battlegrounds has also received good reviews
Big Call:

WWE Battlegrounds might be my favourite WWE Game ever.

And its only been 72 hours. 👀#WWEBattleGrounds #WWE2KBattlegrounds

— Changa (@ChangaYT) September 21, 2020
A lot of gamers have complimented Battlegrounds as being the best game of the year so far. The new style of gameplay and the use of actual power makes the game a lot more fun to play.
#WWEBattlegrounds Great entrance for Stephanie pic.twitter.com/HwOl3u2AbP

— nspics (@nspics1) September 21, 2020
Many also consider it a welcome change form the typical format of previous WWE 2K games. The animations give a unique feel to an otherwise monotonous game.
I beat the campaign in WWE Battleground.

I heard it was "Only a little better than 2K20" But other than the frame rate dropping during a couple of tag matches (Never during a Rumble… Weird.), Some graphics stuff, really nothing major. I give it 7/10. I'm having fun.

— Dana Daniels (@ASweetBabyDana) September 21, 2020
Moreover, the live Twitch streams from WWE Superstars like AJ Styles, Ronda Rousey, and Paige all help in promoting the game. It is currently the 6th hottest game on the UK Charts and intends to do better.
So I played a pile of WWE 2K Battlegrounds on the weekend, I have a couple thoughts.

First the game is insanely fun. I love that we have an old school arcade wrestling title again.

The difficulty curve for the campaign is WAY too steep however. So many unlocks locked there.

— Lloyd Hannesson (@dasme) September 21, 2020
If the minor bog issues are fixed, I trust that Battlegrounds will surely be the game WWE fans want. As a true successor of the Raw vs SmackDown 2009 game, Battlegrounds has a lot to cover but can easily get there eventually.