A Frustrated Big E Takes a Massive Shot at WWE Logic After New Day Split
Published 10/13/2020, 10:51 AM EDT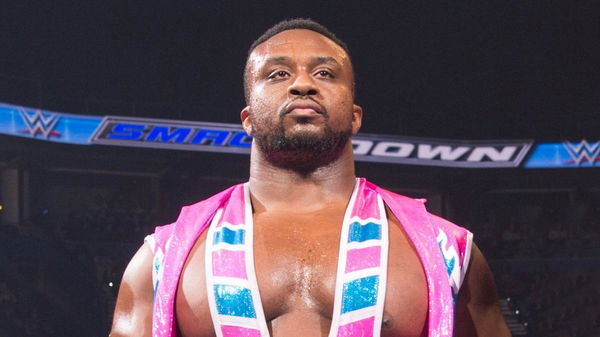 ---
---
The New Day were split up for good on the latest epode of SmackDown. The best tag team trio of WWE was drafted to different brands, ending their long-lasting team. On the SmackDown post-show, 'Talking Smack', New Day member Big E had quite a few things to say about the split.
ADVERTISEMENT
Article continues below this ad
While Xavier Woods and Kofi Kingston sat there giving hope to heartbroken fans, Big E was having none of it. The behemoth was in deep pain and everyone could see it. 
ADVERTISEMENT
Article continues below this ad
For the entirety of the session, he was looking gloomy and nodding his head. Then, when the time came, he had at it.
Sami Zayn started it by expressing his discomfort at being forced to stand despite being the Intercontinental Champion. He then called out the obvious discrepancy in having the "SmackDown" Tag Team Champions drafted to Raw. He added that it did not seem logical at all. 
Big E immediately cut in, asking Sami Zayn how long he worked for the company. First Sami took it as a jab and playfully laughed it off.
Then Big E hinted that from his years in the company, he should know that nothing makes sense or is logical in the company. A lot of eyes were turned and Kayla Braxton covered it up quickly. 
Big E may or may not have broken character for that one moment
Xavier Woods also changed the topic very smoothly to Sami's Intercontinental Championship drama. Even though everything went on, it's hard to say if Big E's words were scripted or if that was a character break. 
ADVERTISEMENT
Article continues below this ad
The big reason behind the split of New Day was for two end goals. The first one was to promote and push Big E as a solo Superstar. The second one is still speculation as of now, but many fans suspect that WWE wants to unify the Tag Team titles of Raw and SmackDown.
This would create a much better tag team division for the main rosters. However, Big E seems more distraught than we think. Splitting up the most backed team in WWE right now does seem a bit illogical.
ADVERTISEMENT
Article continues below this ad
WWE does have a plan, and the sun may have not set on The New Day yet. Sadly enough, for now, we have to say goodbye to this long-standing trio.