Fans Spot Vision from WandaVision Cosplaying The Rock
Published 03/07/2021, 11:46 AM EST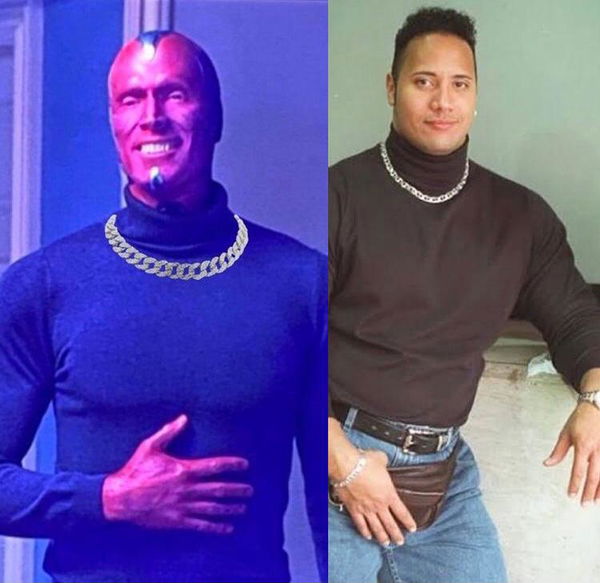 ---
---
WandaVision has quickly become one of the most popular shows in the world. The tale of Marvel's Scarlet Witch and Vision leading regular lives is a show no one knew they wanted. In one episode, wrestling fans pointed at the screens with an expression of joy when they noticed Vision cosplaying The Rock.
ADVERTISEMENT
Article continues below this ad
Vision cosplays The Rock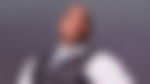 Everyone recognises The Rock's iconic turtleneck picture, which also became a Halloween costume for many. During an episode, Vision walked into the frame sporting a black turtleneck. Someone was quick to add a gold chain around his neck, and the comparisons began.
ADVERTISEMENT
Article continues below this ad
The resemblance is uncanny, but both The Rock and Vision owned this look. Add the fanny pack and fake Tag Heuer watch and you have the perfect cosplay.
okay but has anyone done Vision (vishawn) as the rock? i mean..turtleneck. needs a fanny pack!

— Stormy 🏳️‍🌈♿🏳️‍⚧️ (@StormyJane7) March 7, 2021
vision had no chance of wearing a turtleneck and NOT being turned into the rock

— jack ⚢ loves nat ✰✮ no she/her ♡ JAZZ DAY (@JACKAL_ERA) March 7, 2021
On the Tonight Show Starring Jimmy Fallon, The Rock explained the meaning behind the throwback picture from 1996. Fallon asked him what was in the fanny pack, to which the People's Champion responded, "Pop tarts and condoms." Under his arm is a rag to protect his turtleneck from getting stained.
The Rock also stated whenever you don a leather fanny pack, you must tuck your thumb into it. He even confessed that the watch he wore was a fake Tag Heuer watch.
Dwayne Johnson enters the DC Universe
ADVERTISEMENT
Article continues below this ad
Dwayne Johnson is the latest star to enter the DC Comics Universe, and will portray Black Adam. The movie was initially set be out on December 22nd 2021, but the pandemic pushed back the release date. However, fans cannot wait to see the People's Champion portray one of the more obscure supervillains of the DC Universe.
The Black Adam movie is both a sequel and spinoff to the 2019 hit Shazam!, starring Zachary Levi in the titular role. Alongside Dwayne Johnson are Noah Centineo, Aldis Hodge and Quintessa Swindell. Producers originally wanted Johnson to play the role of Shazam and even Lobo, but the producers of Shazam decided Black Adam needed a separate movie to explain his origin.
Johnson will produce the film as well, which Jaume Collet-Serra will take on the director's role. Collet-Serra directed incredible movies like the Shallows, starring Blake Lively, and Goal II: Living the Dream. He and Johnson will be an exciting pairing for this new venture.
ADVERTISEMENT
Article continues below this ad