"Steal the Show"- Buddy Murphy Wants WrestleMania Showdown with Aleister Black
Published 03/28/2021, 8:15 AM EDT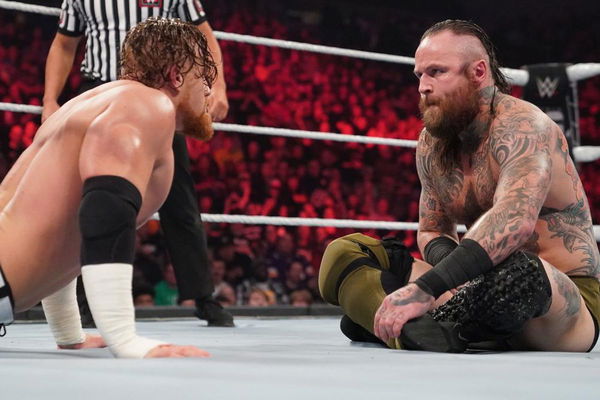 ---
---
WWE has a long history of underutilising their best talent. One of the most talented and versatile members of their roster is Buddy Murphy. The Australian superstar enjoyed a healthy run in the main event during his storyline with the Mysterios, but he's treading water again. With WrestleMania in less that two weeks, Murphy wants a special match.
ADVERTISEMENT
Article continues below this ad
Murphy vs Aleister Black: WrestleMania 37?
ADVERTISEMENT
Article continues below this ad
Just like Murphy, Aleister Black is another talent WWE has underutilised for a really long time. Black had a strong beginning in WWE, winning the NXT Championship in 2018 and his main roster debut showed promise. However, the kick-boxer from Amsterdam has close to no future in WWE anymore.
In 2019, Murphy and Aleister Black put on some of the best wrestling matches in WWE and proved to the world that they were future main eventers. However, Black's career derailed once his wife Thea Trinidad, fka Zelina Vega, lost her job.
WWE fired her after a tweet supporting unionization and flouting WWE's third party policies.
For WrestleMania 37, Murphy wants a match with his former opponent with whom he created magic in the ring. Murphy and Black would put on fast-paced slugfests and might once again prove their mettle as top wrestlers. We all know Murphy and Black deserve better than this, but WWE might decide to push them before AEW snaps them up.
Does WWE fear superstars running to AEW?
Over the last two years, WWE has lost a bunch of talent to AEW. From jobbers to their biggest stars, every Superstar who felt WWE underutilised them escaped and landed in Tony Khan's paradise.
AEW isn't exactly a paradise, but they've proven to be a much happier place than the WWE.
From former champions like Jon Moxley, Brodie Lee and Miro to WWE legends Sting, Big Show and Christian, AEW has found a home for every wrestler WWE finds invaluable.
ADVERTISEMENT
Article continues below this ad
Even the newly unemployed Andrade might be on AEW's wish-list, now that he's free to compete in any promotion he wants.
With the way superstars are flocking to AEW, WWE is keenly aware of them but not afraid of them yet. While Raw might be in the pits, SmackDown and NXT are still delivering decent storylines and good wrestling.
As long as they uphold WWE's end of the bargain, fearing AEW will not be an issue for the next five years.
ADVERTISEMENT
Article continues below this ad