Stephanie McMahon Shares Historical Milestone From WrestleMania 37
Published 04/17/2021, 8:00 AM EDT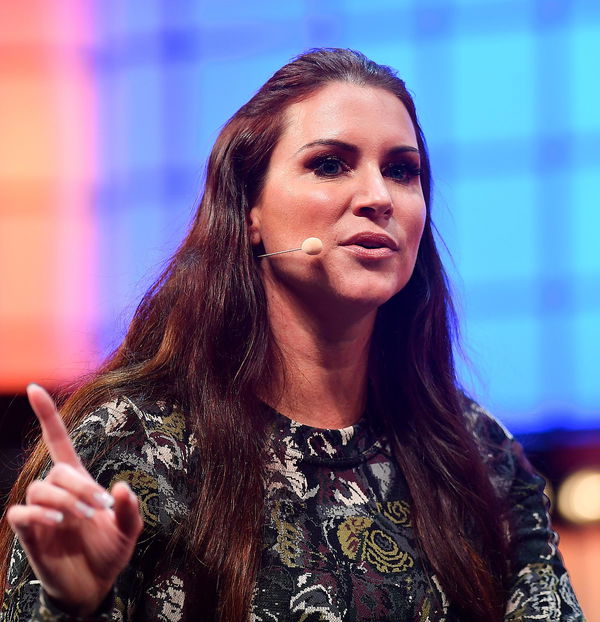 ---
---
WrestleMania 37 was the first event in over a year to have live audiences. The two nights were immensely successful amidst fans and critics alike. Recently, WWE CBO (Chief Branding Officer) Stephanie McMahon shared a tremendous fact about the event.
ADVERTISEMENT
Article continues below this ad
In its 37 years of existence, WM 37 became the first one to feature a female photographer documenting the event. McMahon, an advocate for equal opportunities for women in WWE, posted the update on Twitter.
She posted a picture and wrote, "This past weekend Heather McLaughlin made history as the first female to shoot WrestleMania ringside for WWE. Proud to have you on our team, Heather!"
ADVERTISEMENT
Article continues below this ad
Fans gave a mixed reaction to the news when it first made the headlines. Some have welcomed the news while some criticized WWE for not making it happen sooner.
Oh simple because wwe never moved out of the wwwf way of thinking Vinces dad started when he was in charge.

— Mythrind. (@Mythrindsins) April 16, 2021
What happend to all those previous years of WWE promoting womens equality.? Evolution PPV etc….. And this is the first woman to do this???? Barely?? We are in 2021….

— TONEDOGG0683 (@tonedogg0683) April 16, 2021
Predominantly male industry, many women historically viewed wrestling as "tacky", very close-knit business with few spots actually open, etc.

— Paul ❁ (@PaulDHeenan) April 16, 2021
However, most fans were quick to point out WWE's "hypocrisy." Recently, WWE Veteran Mickie James, Former Women's Tag Team Champions Peyton Royce, and Billie Kay, and new signee Chelsea Green received the ax from the company.
WWE really sees more value in DANA BROOKE than Billie Kay, Peyton Royce, Mickie James and Chelsea Green.

Let that sink in.

…

— The Dakota Kai Guy 🧊 (@Dakota_Kai_Guy) April 15, 2021
This past Wednesday @wwe made history once again, for a second year in a row by firing 8, as we know officially at least, people while a pandemic is happening and on top of that they put a release clause which is 3 months…. Well done #not

— Christos Staikos (@XristosStak) April 16, 2021
Will she be fired in the next budget cost so we can have another mind numbing fight of brock Lesnar? Or Logan Paul's vs that kicker from colts… By the way is 2021 it looks bad it took u this much time to hire some females photographers… But whatever I hope she does well.

— Azamar Zero (@PrototypeChaos) April 17, 2021
When you will fire her? In times of your so called equality, your father fired big talents, meanwhile plastic surgery addicted Flair gets offered her next 2 week run as champion. Why gives Hunter all these talents a big picture, only to be destroyed by the old man? Ridiculous!

— Kevin Bublitz (@KevinBublitz) April 17, 2021
Other Superstars to be fired are Samoa Joe, Bo Dallas, Kalisto, Tucker, Wesley Blake, and Mojo Rawley. Most of them have a standard 90-day non-compete clause, after which they will be free to compete in different promotions.
Stephanie McMahon thanked the fans following an immensely successful WrestleMania weekend
For the past few years, McMahon and husband Triple H have not been active in-ring performers. However, as WM returned to the "new normal," Triple H, Stephanie, Shane, and Vince McMahon worked closely in its execution.
Following the event, McMahon sent out an email to WWE officials, documenting her emotions and the massive profit WM ushered in. She also touched upon the new tagline of WWE.
As Vince McMahon began the event, Stephanie recalled, "The 25K in attendance erupted and the rest of us had tears in our eyes; reinforcing the meaning behind our new company signature that started the show, "Then. Now. Forever. Together.
"Across YouTube, WWE.com, and WWE social media content during WrestleMania Week, video views hit 1.1 billion, 31 million hours of content was consumed, and WWE-related content saw 115 million engagements. WrestleMania was also the world's most-social program both nights of the weekend, delivering 71 Twitter trends in the U.S. alone."
ADVERTISEMENT
Article continues below this ad
Stephanie concluded, "It takes the effort of so many different people to make WrestleMania happen, especially during a global pandemic. Thank you to our friends, partners, employees, and of course, our Superstars for making it possible."
WWE has reverted to its virtual audience following WrestleMania. Hopefully, after the second wave in the United States subsides, fans will be back in the arena in no time.
ADVERTISEMENT
Article continues below this ad