"Still Waiting For That Same Energy"- WWE Legend Hulk Hogan Sends a Message to Dwayne Johnson
Published 03/18/2021, 5:05 PM EDT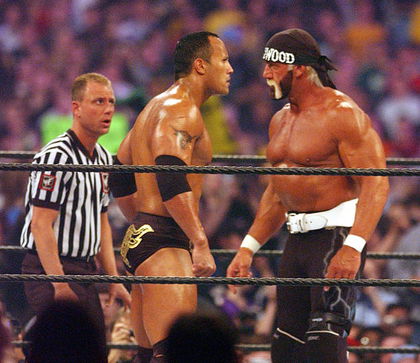 ---
---
At WrestleMania X8, two of the biggest icons in wrestling history clashed. This once-in-a-lifetime match featured Hulk Hogan and The Rock. The Rock was the most popular WWE superstar in 2002, and Hogan and the nWo had debuted the same year. This led to the match that many recognize as the greatest WrestleMania match of all time.
ADVERTISEMENT
Article continues below this ad
Hulk Hogan remembers his most iconic WrestleMania match
ADVERTISEMENT
Article continues below this ad
Neither Hogan nor The Rock were known for their technical wrestling skills. Both men relied heavily on showmanship, ranging from catchphrases to interacting with the audience.
At WrestleMania x8, two of WWE's biggest and best crowd-pleasers clashed to create one of WWE's loudest matches.
Even though he portrayed a heel, Hulk Hogan received a hero's welcome in Toronto. They were behind the Hulkster for the entire match and lost their minds when he hulked up.
Hogan kicked out of a Rock Bottom at one and immediately began hulking up. He pointed at The Rock and unloaded right hands on his cranium before flattening him with the Big Boot and the iconic Leg Drop.
But Rock kicked out! It wasn't enough to put the People's Champions away, who fought back into the match and put away the legend with two more Rock Bottoms and the People's Elbow.
After the match, both icons shared a moment of respect and even chased the nWo away after they ejected Hogan from the group. If Hogan wasn't a face during the match, he surely became one after the match.
Hogan sends a message to The Rock
19yrs ago today the Rock and I had a match that will stand the test of time,I'm still waiting for that same energy to show up again brother Wood4Life pic.twitter.com/TBKpz2YPDB

— Hulk Hogan (@HulkHogan) March 18, 2021
In his incredible career, Hulk Hogan main vented many WrestleManias. He faced opponents like Macho Man Randy Savage, King Kong Bundy, Sgt. Slaughter and, of course, Andre the Giant. The match with Andre will go down as one of the greatest moments in wrestling history, but Hogan vs Rock isn't far behind.
The Rock vs Hulk Hogan was exactly what WWE wanted John Cena vs The Rock to look like but fell very short. Hogan remembered his iconic match with the People's Champion and sent him a message on Twitter.
ADVERTISEMENT
Article continues below this ad
Greatest 'Mania match of all time. Dont watch…just listen.

— Bully Ray (@bullyray5150) March 18, 2021
Fellow WWE Hall of Famer Bubba Ray Dudley agreed with Hogan, claiming the WrestleMania X8 match to be the greatest WrestleMania match of all time. Alongside Taker-HBK, Steamboat-Savage, Owen-Bret, Austin-Rock, and more recently, Kofi-Bryan, Rock vs Hogan stands out as one of the most incredible matches in WWE history.
ADVERTISEMENT
Article continues below this ad