Stone Cold Steve Austin Recalls Vince McMahon Turning Down His "Bada**" Idea of Singing a Hank Williams Song at WrestleMania 30
Published 03/16/2023, 12:00 PM EDT
By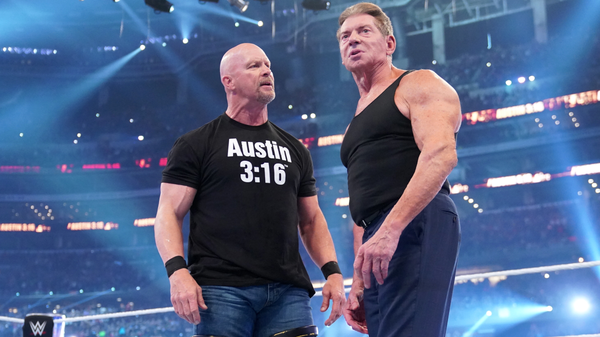 Vince McMahon has been the man behind WWE's success for a long time. There is no doubt that there has been immense growth in the company during this time. Although the company still continues to grow, some iconic moments have been imprinted in our minds back when McMahon was in charge. His biggest creation- WrestleMania has given fans many memorable moments over the years. Similarly, its 30th edition was filled with iconic moments.
Stone Cold Steve Austin recently mentioned a shocking disagreement between him and McMahon that could've altered the event's unforgettable moment with Austin, The Rock, and Hulk Hogan in the same ring to kick off the show. While conversing with 'RingRustRadio', Steve Austin's revealed his idea to make the interaction stand out.
What idea did Vince McMahon scrap?
ADVERTISEMENT
Article continues below this ad
Although Austin had to retire from WWE in 2003 due to injury issues, he did many cameo appearances for the company and could do another one this year. One such amazing cameo was at WrestleMania 30. The wrestler appeared in an in-ring scene with two other WWE legends Dwayne Johnson and Hulk Hogan.
This led to a lot of hype from fans across the globe. The visual was unreal for WWE lovers. However, in a radio interview, Austin mentioned how he had plans to make the scene even better.
Apart from having The Rock and Hulk Hogan there already in the ring, he wanted to sing along with them! "I actually pitched to Vince in the back that I wanted to sing Jambalaya–it's an old Hank Williams song–and he shot that down," said the Hall of Famer. It is clear that he regrets not singing a Hank Williams song at WrestleMania.
In fact, Austin was so on-board with the idea that he thinks it would have been "bada**" to hear around 80 thousand people sing Jambalaya in one stadium.
ADVERTISEMENT
Article continues below this ad
Vince McMahon's reaction to the idea
Although there seems to be a mention of the fact that he wasn't on board with the idea, Austin shed little to no light on the reason why the CEO of WWE didn't want them to sing.
For starters, 'Stone Cold' thought it was probably because "he didn't think it would get over." Maybe for McMahon, it wasn't a good idea and could possibly take away from the moment.
ADVERTISEMENT
Article continues below this ad
If that wasn't enough of a reason, Austin also thinks that the reason why the CEO denied is that of copyright and other possible legal issues. Do you think it would've been a good idea to let Austin sing at WrestleMania 30? 
Watch this story:- Brock Lesnar, The Undertaker, Triple H, and Others: 10 Times Pro Wrestlers Broke Characters
Edited By: Sherjeel Malik