The Time Triple H Fooled The Entire WWE Universe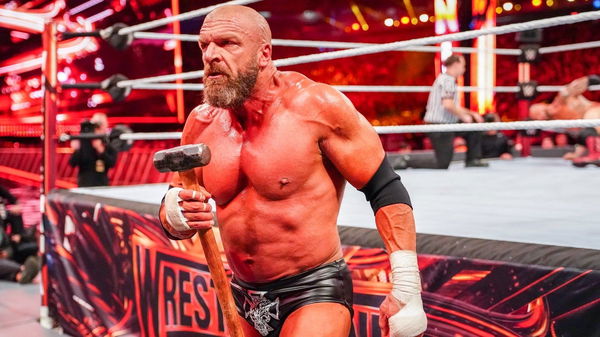 Over the years, WWE has seen some pretty great segments. The best of these segments are the shocking heel turns and verbal smackdowns. However, few remember the great show Triple H put on while he was World Champion, on one particular episode.
The year was 1999 and WWE was then known as WWF. The Attitude Era was at its peak and Stone Cold Steve Austin was at the very center of it all.
At this point, the "Texas Rattlesnake" was engaged in a bitter feud with Triple H for the WWE World Championship.
ADVERTISEMENT
Article continues below this ad
The two Superstars were fighting neck-to-neck with each other. After a series of back and forth ambushes, Stone Cold managed to get the better of his rival. 
In one particular segment, he threw a winded Triple H into a locker room, which had a poisonous rattlesnake roaming inside. As he saw it and attempted to escape, Stone Cold shut the door on him.
The segment ended there, leaving fans' imaginations running wild as to what happened to "The Game". In the next episode of RAW, Triple H showed up, ending the confusion.
Triple H showed up with a horrible wound on his face
To the shock of thousands of fans, Triple H had a ghastly wound on his face, that had turned purple! Calling out Vince McMahon himself, he explained how his condition was a result of the rattlesnake biting him the face.
He went on to criticize and blame McMahon for not taking enough safety measures for his employees. He also claimed that McMahon didn't have enough power to even control Steve Austin and his shenanigans.
He ended on a sorrowful note, saying that he would hand over his title to Austin, as the Championship was not as important as his own safety.
In another cut-scene of the episode, "The Game" was seen having a seizure and being carried away by ambulance.
As expected, Austin readily showed up at the premises a while later. As the anticipation grew, Triple H and his then partner Chyna returned to meet Steve Austin.
Chyna and him then laid the guilt trip on Austin as well, who didn't seem to even care.
He was ever ready to receive the title. However, in a shocking turn of events, Triple H used his Championship belt to hit an unsuspecting Austin in the face. He and Chyna then proceeded to kick down Austin.
The Rivalry would go on to No Mercy in 1999
ADVERTISEMENT
Article continues below this ad
"The Game" then pulled out the 'wound' on his face, and it became clear that it was all just makeup. Triple H had faked the whole thing and caught Stone Cold clean!
As far as shoving heels go, this one is right up there with Mark Henry's fake retirement. The amount of time and effort that Triple H spent selling it and so convincingly is astounding.
ADVERTISEMENT
Article continues below this ad
The two would go on to have a match at No Way Out that year, which Triple H won, after interference by The Rock went wrong. "The Cerebral Assassin" and Stone Cold would meet time and again for more storylines over the next two years in some of the most defining and heated encounters of the Attitude Era.