"That's Way Too Tacky" – Kurt Angle Reveals ECW Almost Had an Alien Gimmick
Published 06/05/2021, 12:21 AM EDT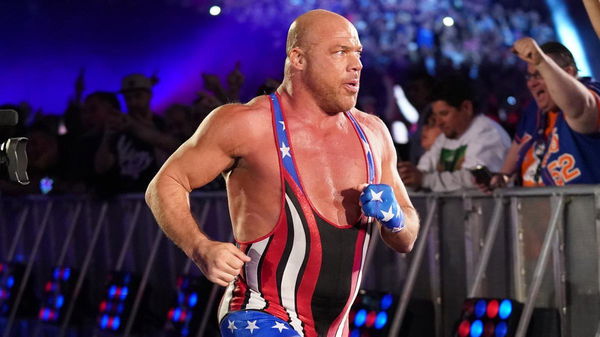 ---
---
A good gimmick is ultimately a Superstar's key to success in WWE. For instance, it wasn't until Steve Austin found the "
Stone Cold
" gimmick that his popularity took off. Similarly, it wasn't until
John Cena
transitioned into 'The Doctor of Thuganomics' that he ascended to new heights and became one of the most popular Superstars of all time.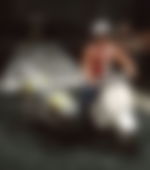 Many times, WWE tries out new gimmicks on Superstars. While these work extremely well sometimes, they can also fall completely flat.
When that happens, the gimmick is quickly dropped with nobody remembering it ever existed. Kurt Angle had an interesting story about the same.
ADVERTISEMENT
Article continues below this ad
Kurt Angle as an Alien
On May 30, 2021, Kurt Angle spoke to his co-host, Conrad Thompson, on "The Kurt Angle Show", about his time in ECW in 2006 when WWE revived the company. He also talked about the show being placed on the 'SyFy' network.
ADVERTISEMENT
Article continues below this ad
Kurt recalled how strange it was to have a wrestling show airing on a science fiction network. He even revealed that the company asked WWE to use science fiction characters, but Vince McMahon shot those ideas down. Kurt said,
"It was odd. We didn't correlate the two, we couldn't understand it. I know the SyFy channel is a quality T.V. station, a quality network, it just wasn't the right fit. The crazy thing was the SyFy channel approached Vince saying they wanted two alien wrestling characters on the show and Vince said no immediately. He said we're not doing that, that's way too tacky." (H/t Wrestle Inc. for the transcriptions)
Watch This Story – WWE Superstars Who No-Sold Their Opponent's Finisher Moves
Was the gimmick too tacky for WWE?
It is really astonishing to hear that WWE did not do a gimmick thinking it was tacky. We say this because over the years, WWE has had some pretty wild gimmicks.
For instance, Paul Burchill's 'pirate' and Max Moon's 'cyborg' gimmick could be called tacky, to say the least. In 2004, WWE even debuted the Mordecai character. He would dress in all white and would make his mission to rid the world of sin. He was, in essence, the anti-Undertaker; the angel to the
Undertaker
's Grim Reaper.
ADVERTISEMENT
Article continues below this ad
Maybe, WWE's failed experiments of the past made them realize that an Alien character was not a good idea.
ADVERTISEMENT
Article continues below this ad