Former WWE Divas Champions The Bella Twins Share the Timeline for Their In-ring Return
Published 11/25/2020, 12:57 AM EST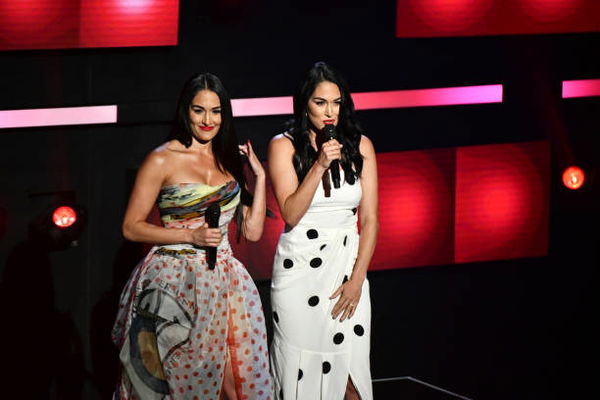 ---
---
Well, the news is almost official. The Bella Twins are returning to WWE in pursuit of the WWE Women's Tag Team Titles. Nikki and Brie have not wrestled for WWE since Evolution in 2018, where Nikki Bella facd Ronda Rousey. The twins are two of WWE's most popular women wrestlers and basked in the spotlight till the Women's Revolution.
ADVERTISEMENT
Article continues below this ad
Nikki and Bella will be returning to the WWE
ADVERTISEMENT
Article continues below this ad
According to Inside the Ropes, the Bella Twins were in talks with the company over a possible in-ring return. To confirm the rumors, the twins made a YouTube video.
"We do really wanna make a return, the timeline of it, we don't know when," said Brie. Nikki added that there were certain barriers to the potential return. The twins are now mothers, which makes it difficult for them to maintain a full-time career.
"So a couple of mistakes I did with Birdie, on couple of my comebacks was Birdie since was so little, and you're sleep-deprived, you're trying to train, you're trying to be a mom, so it can be really hard," said Brie.
Both The Bella Twins are now mothers
ADVERTISEMENT
Article continues below this ad
Brie and Nikki gave birth within a frame of four months. Nikki gave birth to her son in May, while Brie gave birth to her and Daniel Bryan's son in August. Brie told Nikki that she would like to wait until the boys are two years old, so they can safely make their return.
"When we returned for Evolution, we were running three companies, we were filming a reality TV show. We had so much on our plate, Brie had just had Birdie and we just said the comeback didn't get its full attention from us like we would have wanted," said Nikki Bella.
ADVERTISEMENT
Article continues below this ad
"One day, yes, we will. Might be next year, might be in two years, but it's not anytime soon," said Brie Bella. She even confirmed that the tag titles are on her bucket list and she's sure to check that off the list.
Brie and Nikki were cornerstones of the Women's/Diva's division prior to the Women's Revolution. They chartered the path for the likes of Charlotte Flair, Becky Lynch and the rest of the NXT graduates who made the main roster their own.