The Best Booking Decisions Taken by WWE in 2020
Published 12/23/2020, 7:45 AM EST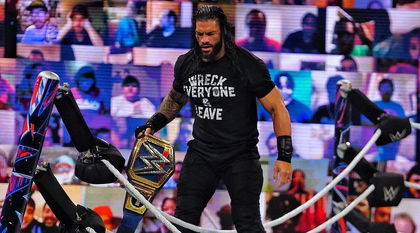 ---
---
WWE generated some truly extraordinary moments in 2020. The horrible circumstances of the year diminished the WWE viewing experiences, but WWE pulled out some incredible booking decisions that led to some amazing moments. Here are the best WWE booking decisions of 2020.
ADVERTISEMENT
Article continues below this ad
WrestleMania becomes a two-night event
WWE followed in NJPW's footsteps and made their flagship event a two-night event. Although WrestleMania suffered from the lack of a crowd and a giant set, WWE put on an incredible two nights of wrestling. Massive title changes highlighted both nights, and so did stunning cinematic masterpieces and women's division matches.
ADVERTISEMENT
Article continues below this ad
Night 1 saw Kevin Owens and Seth Rollins try to destroy each other around the Performance Center. Becky Lynch and Shayna Baszler put on a hard-hitting battle that saw the Man's title reign extend.
Braun Strowman destroyed Goldberg and finally won the Universal Championship. In the main event, Undertaker literally buried AJ Styles in the excellent Boneyard Match.
Night 2 saw the incredible Charlotte Flair beat Rhea Ripley and win her second NXT Championship. Edge and Randy Orton's Last Man Standing match was a boring affair but had its moments.
Bray Wyatt mentally tortured John Cena in the critically acclaimed Firefly Funhouse match. In the main event, Drew McIntyre kicked Brock Lesnar's face off to win the WWE Championship.
WWE debuts the ThunderDome at SummerSlam
While the company tried its hardest to make the best out of a miserable scenario, the Performance Center was not an ideal location for PPVs. This led to Vince McMahon renting the Amway Center in Florida, and used to create a beautiful virtual, videoconferencing crowd experience.
The ThunderDome is now moved to the much larger Tropicana Field in Florida. This might be to accommodate the upcoming Royal Rumble, which requires a larger ring because of the large number of participants. SummerSlam became the perfect place for WWE to debut the incredible setting. It factored in perfectly for certain matches like the Firefly Funhouse match and is nothing like the dull Performance Center.
Roman Reigns turns heel
The heel turn that everyone wanted finally came to its fruition. At SummerSlam, Roman Reigns made his return to WWE and speared The Fiend and Bray Wyatt. A week later, at WWE Payback, he won the WWE Universal Champion, but not before aligning with none other than Paul Heyman.
Reigns' alignment with Heyman, and that he let Strowman and Wyatt kill each other before waltzing down the ramp made for the perfect heel reaction.
His rivalry with Jey Uso brought out the heel that fans have not seen at all. Kevin Owens became the perfect foil for Roman to cement his status as WWE's biggest heel. In a matter of four months, Reigns is already WWE's Superstar of the Year.
The Prince takes over WWE NXT
Finn Balor has enjoyed a spectacular 2020. The NXT Champion returned to his home brand in 2019 and embarked on an amazing heel run. Fans could not help but cheer for the Prince, who showed signs of his NJPW gimmick.
ADVERTISEMENT
Article continues below this ad
After putting away Matt Riddle, Johnny Gargano, Damien Priest, and Timothy Thatcher at Takeover events, Finn finally challenged for the NXT Title.
He and Adam Cole put together a television classic on September 8th, which NXT branded Super Tuesday. Back on top of NXT, Finn Balor finally looks like the incredible champion he was meant to be when he debuted in WWE. Fans will hope that his reign lasts a while.
ADVERTISEMENT
Article continues below this ad
Honorable mentions: Drew McIntyre winning the Royal Rumble and AJ Styles winning the Intercontinental Championship.