The Forgotten Hollywood Career of The Undertaker
Published 02/08/2021, 7:26 AM EST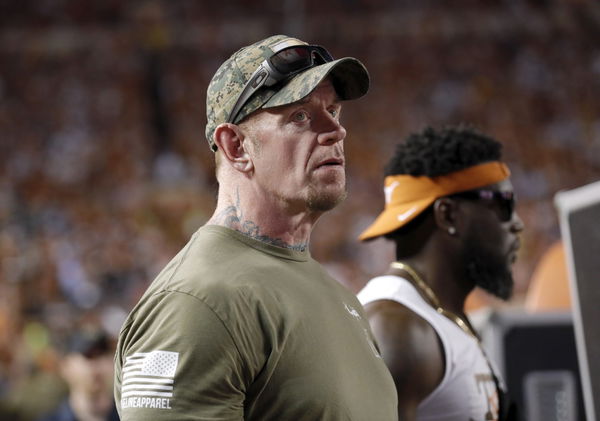 ---
---
The Undertaker is very well known for his wrestling career, but few fans remember his stint in Hollywood. As surprising as it sounds, the Undertaker has a few movies in his itinerary to go with his seven World Heavyweight Championships.
ADVERTISEMENT
Article continues below this ad
It is quite shocking, considering Undertaker holds a reputation for staying away from the limelight for the thick of his pro-wrestling career. Hellbent on adhering to his gimmick of 'The Deadman', he rarely held any public appearances or interviews.
His journey in Hollywood started with 'Suburban Commando' in 1991. The Undertaker embarked upon his acting career with this science-fiction comedy film in the character of Hutch. Even though the film turned out to be a disaster, it had Hulk Hogan as the main lead.
ADVERTISEMENT
Article continues below this ad
The Undertaker's next venture was eight years down the line in 1999. He starred in Barry W. Blaustein's documentary film, Beyond the Mat. The documentary focused on the lives of professional wrestlers outside of the ring.
The film performed pretty well at the box office, and revenue ran almost four times over the budget. Interestingly, Dwayne Johnson made his informal Hollywood debut with this film.
The Undertaker did more movies in the new millennium
The Undertaker didn't appear in any other movie till 2015. From there on, he took part in three animated movies in three consecutive years.
It all started with The Flintstones & WWE: Stone Age SmackDown! The co-production between Warner Bros and WWE studio saw wrestlers mingle with the famous cartoon, The Flintstones.
The direct to video animated film boasts of Nikki Bella, Daniel Bryan, John Cena, Mark Henry, Vince McMahon, Rey Mysterio, and CM Punk, along with the Undertaker.
After the success of the Flintstone stint, we saw the Undertaker in the Scooby-Doo franchise. The 2016 animated film named Scooby-Doo! And WWE: Curse of the Speed Demon was a sequel to Scooby-Doo! WrestleMania Mystery.
After this, Surf's Up 2: WaveMania was his last appearance in a major film. Sequel to the 2007 film Surf's Up, Sony Pictures produced the WaveMania with the WWE Studios. John Cena, Paige, and Vince McMahon again make up the cast along with the main man himself.
ADVERTISEMENT
Article continues below this ad
Apart from the movies, The Undertaker has been a part of television series as well. He portrayed the character of Soul Chaser Demon in the 1999 series Poltergeist: the Legacy. In DownTown and Celebrity Deathmatch, he appeared as a voiceover artist and appeared in America's Most Wanted.
Now that Undertaker has retired from professional wrestling, maybe we will see more of him in Hollywood. Let us know in the comments below.
ADVERTISEMENT
Article continues below this ad