"The Legacy of The Undertaker Will Live on Eternally" – Vince McMahon Tears Up During The Undertaker's Final Farewell
Published 11/22/2020, 11:52 PM EST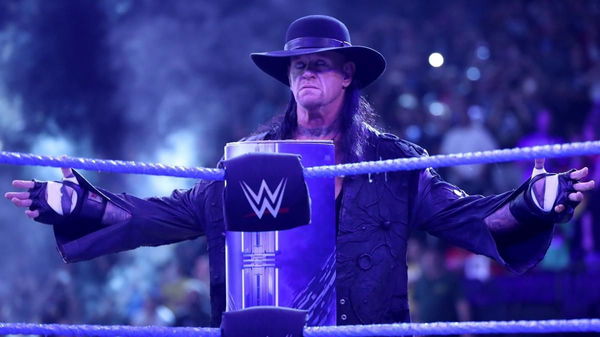 ---
---
The 2020 WWE Survivor Series is finally over, and we can definitely say that The Undertaker's farewell brought tears in the eyes of every single pro-wrestling fan out there.
ADVERTISEMENT
Article continues below this ad
The Undertaker delivered an iconic promo in old-school 'Deadman' fashion to mark the end of his iconic career. The slow eerie walk to the ring, the promo, and the actions that followed were extremely emotional moments for every wrestling fan.
ADVERTISEMENT
Article continues below this ad
The final farewell saw a plethora of WWE Legends and Hall of Famers close to The Undertaker making an appearance and paying their respects to a legendary career and a legend himself.
There was another man out there waiting to pay a tribute to 'The Deadman' in his trademark fashion. It was none other than the man who brought The Undertaker character to life – Vince McMahon!
Vince McMahon pays emotional tribute to The Undertaker
Vince McMahon appeared to introduce 'The Deadman.' The WWE Chairman was having a tough time containing his emotions. After all, The Undertaker wasn't just Mr. McMahon's most loyal and go-to employee, he is also a close friend.
Mr. McMahon said, "Thirty years. Thirty long, arduous years. That's three decades! Three decades this man, not withstand his injuries and hardships he's endured and stricken fear in the hearts of, if not, terror in the hearts of almost everyone he faced here in the ring. At the same time entertained the global audience. Be it WWF or, of course, WWE Universe currently."
ADVERTISEMENT
Article continues below this ad
The emotions on Vince McMahon's face said it all. It was difficult getting words out of his mouth.
"Tonight marks an end of an era. End of an era of a long, storied career. It has to never be duplicated. So tonight, we say, we say Goodbye. They say, uh, they say nothing lasts forever. I think they're wrong, because the legacy of The Undertaker will live on eternally!" continued Mr. McMahon before introducing The Undertaker to the ring one last time.
ADVERTISEMENT
Article continues below this ad
It came complete circle for The Undertaker today. Whatever holds next for 'The Deadman,' we as fans definitely wouldn't mind him coming back to take souls and dig holes. Professional Wrestling or Sports Entertainment, whatever you call it, will never be the same without The Undertaker.