WATCH: The Miz and John Morrison Ridicules Drew McIntyre and Goldberg With a Hilarious Segment
Published 01/18/2021, 10:50 PM EST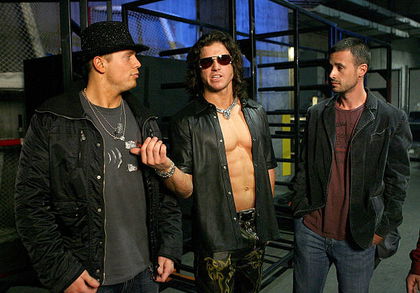 ---
---
WWE Raw featured a very special episode of the Dirt Sheet. The Miz and John Morrison played host to the indomitable Goldberg. Goldberg will face Drew McIntyre at the Royal Rumble PPV for the WWE Championship, which made this segment with the Money in the Bank winner quite an entertaining one. However, what we got was absolutely not what we expected.
ADVERTISEMENT
Article continues below this ad
The Miz and Morrison troll Goldberg and Drew McIntyre
ADVERTISEMENT
Article continues below this ad
Instead of Goldberg, we got the incredible Gillberg returning to WWE. The legendary comedy wrestler retired recently, but WWE brought him back for this hilarious segment. Characters like Gillberg are the fine line between actual comedy and the company trying to hard to make people laugh.
Instead of Drew McIntyre, Miz and Morrison had a fake Drew come out to the ring. This Drew had a wig that fell off his head during his entrance, a beer belly, and a tinier sword as compared to the massive one the WWE Champion wields. McIntyre promised Gillberg that he would kick his a** back to 1998.
This segment was far from what we were expecting from Miz and Morrison. Miz was the saving grace of this segment, cutting an intense promo after the foolishness from Gillberg and mini McIntyre. He promised both Goldberg and the WWE Champion that he is not an afterthought in the title picture and that he is 'next'.
Will he cash in his Money in the Bank at the Royal Rumble?
ADVERTISEMENT
Article continues below this ad
The Miz shocked no one when he cashed in his Money in the Bank contract at TLC during AJ Styles vs Drew McIntyre's TLC match. However, his loss in the match was far more shocking than the actual cash in, but all hope wasn't lost for him. Because of a technicality revolving around John Morrison cashing in the contract, he received his contract once more.
ADVERTISEMENT
Article continues below this ad
This allows Miz to cash in the contract once more, and the opportunity presents itself once again. At the Royal Rumble, Drew McIntyre and Goldberg are undoubtedly going to beat the cr*p out of each other, and all Miz has to do is run in and cash in his contract.