The Miz' Wife Maryse Slaps Him Live on Air During WWE Raw
Published 12/14/2021, 12:03 AM EST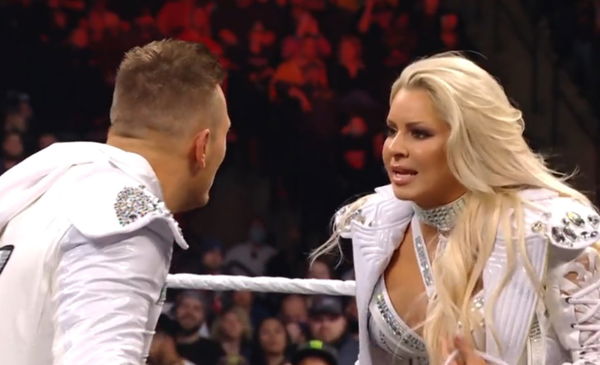 ---
---
The recent episode of Monday Night Raw featured The Miz and his wife Maryse, celebrating his great career and his road to Hall of Fame inductee. The Miz is one of the most decorated WWE Superstars and is a former 2-time WWE Champion. Moreover, he has won the WWE Intercontinental Title 8 times in his career.
ADVERTISEMENT
Article continues below this ad
ADVERTISEMENT
Article continues below this ad
On Monday Night Raw, Miz showed off his Hall of Fame Package. The couple got emotional after watching the video. Besides his career, he highlighted his Day 1 pay-per-view match with Rated-R Superstar Edge and mocked him.
Miz claimed that after his win over Edge, he will be marked as one of the greatest in WWE history.
Edge insults The Miz in front of the WWE Universe
The Miz and Maryse celebrated their joyful moment until Edge emerged. The Rated-R Superstar confronted Miz in the ring and insulted him, mocking him for being a showoff.
He believes that Miz is doing nothing but showing off his 'first-me' attitude. Per Edge, although Miz is a talented superstar, he lacks the attitude like the Rated-R Superstar.
Moreover, Edge insulted Miz for his stupid attitude and pride. He said, "You're so accustomed to people saying that you're just not good enough, that deep down you start to believe it. So, you overcompensate and act like an obnoxious jackass. But I believe that you truly are one of the greats, and I'm not taking our match lightly."
Watch This Story: Roman Reigns' Spear to Brock Lesnar's F5: Most Devastating WWE Finishers of 2021
"You claim that I didn't do enough to help you back when you started in 2006, and maybe you're right, but I'm going to try and make up for it now. At Day 1, as great as I think you are, I'm going to teach you that there are still lessons to be learned. And I'm going to knock that constipated look off your face…" said Edge.
The Miz gets slapped by Maryse
ADVERTISEMENT
Article continues below this ad
After hearing disrespectful words from Edge, Miz got frustrated, splashed the champagne on Edge's face, and attacked him. As Edge got to his feet to deliver the spear, Miz used his wife, Maryse, as a human shield, blindsiding Edge. Later, he delivered the Skull Crushing Finale to knock Edge down.
ADVERTISEMENT
Article continues below this ad
However, Maryse wasn't happy, as Miz used her for his protection. Eventually, Maryse slapped Miz for his actions and walked out of the ring. Can this ruin their relationship? Tell us in the comments.