Everything You Need to Know About the Rivalry Between Alexa Bliss and Nia Jax
Published 01/21/2021, 7:46 AM EST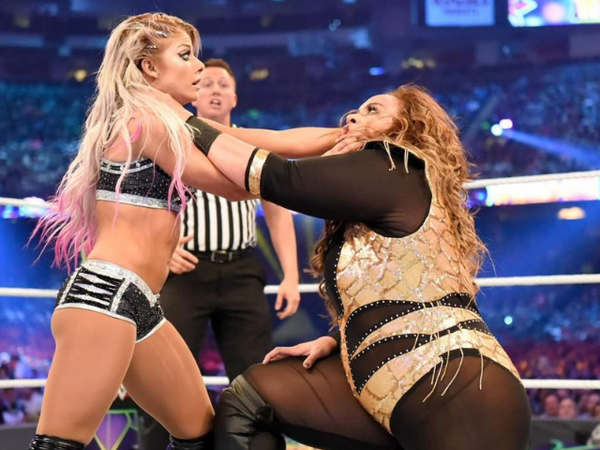 ---
---
Alexa Bliss and Nia Jax are the cornerstones of the WWE women's division. Whether it's Bliss' quirkiness or Jax's rage, both of them sell every element of their character engagingly. One might even say that they've shaped the destiny of the women's revolution in more ways than one.
ADVERTISEMENT
Article continues below this ad
There was a time in WWE's history when The Rock's cousin and 'Little Miss Bliss' were on-screen best friends. Unfortunately, this unlikely friendship didn't withstand the test of time when Bliss conspired against Jax and backstabbed her.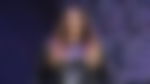 ADVERTISEMENT
Article continues below this ad
The beginning of the WWE feud
The WWE audience realized the friendship will soon turn into a rivalry right after Nia Jax vs. Asuka at Elimination Chamber 2018 and WWE Raw: March 5th, 2018. In the match, Asuka defeated Nia Jax via submission.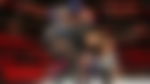 The segment which followed was Alexa Bliss comforting Jax. The promo showed Bliss' "mean girl" side, but when it ended with Nia Jax breaking down in tears, the audience realized that a mega rivalry was coming their way.
"Pick yourself up Nia. Don't be ashamed of what just happened. You should be proud of yourself and realize everything you've accomplished in such a short amount of time. Look what you've overcome. Your entire life you've been an outcast, you've been bullied, scorned, all because you're just so much bigger than the other kids. Even now when we walk in the airports, I see how people look at you."
Towards the end, it left Jax in tears and with a shattered heart. Interestingly, this was not where she realized Bliss wasn't exactly the friend Jax thought she was.
Nia Jax and Alexa Bliss at WrestleMania 34
Coming to WWE Raw: March 12th, 2018, Nia Jax was disposing of a local talent inside the ring, and Alexa Bliss and Mickie James were waiting for an interview in the dressing room. Neither of them realized the mic was on when she bashed Jax.
"I have Nia at the palm of my hand, trust me. She grew up her entire life this total loser and is so desperate and needy to have friends like us. She is easily manipulated and if I'm being honest, she's just as dumb as she is big."
Both of them fled when they were informed that Jax and the entire arena had heard everything. Nia Jax came in, fuming with rage, and searching for Bliss to tear her apart.
WWE might come across as unfair, but this time Kurt Angle took a decision that brought Alexa Bliss to her knees. He gave Nia Jax the opportunity to battle Alexa Bliss for the Raw Women's Championship at WrestleMania 34.
She took the opportunity at a backstage interview on WWE Raw: April 2nd, 2018 to let Bliss know what was about to happen with her.
"Alexa, you're nothing but an insecure little girl, pathetic fly. At WrestleMania I'm going to squash you like a bug."
Jax ensured that she kept Bliss' lackey, Mickie James, out of the equation by attacking her beforehand. In the match, Nia Jax took a brief beating from Bliss but soon secured the victory with a Samoan drop. Not only did she end Bliss' reign but also became a champion for the first time.
How did the rivalry end?
At Backlash 2018, Nia Jax and Alexa Bliss faced off again when the latter invoked her rematch clause. However, she could not take back the title after injuring her shoulder during the match.
Alexa Bliss earned a spot at the Money in the Bank ladder match after defeating Bayley and Mickie James in a triple threat match. She won the Money in the Bank contract in June 2018 and cashed in to challenge Nia Jax for the title.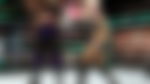 ADVERTISEMENT
Article continues below this ad
She defeated both Jax and Ronda Rousey, and became the Women's Champion for the third time.
Finally, the rivalry between Alexa Bliss and Nia Jax ended at Extreme Rules 2018 after Bliss successfully kept her title in the inaugural women's Extreme Rules match.
ADVERTISEMENT
Article continues below this ad
Today, both of them have marked their places in WWE and are booked in popular storylines featuring brilliant promos and segments.