WATCH: The Rivalry With Samoa Joe That Made WWE Sign CM Punk
Published 01/09/2021, 12:04 PM EST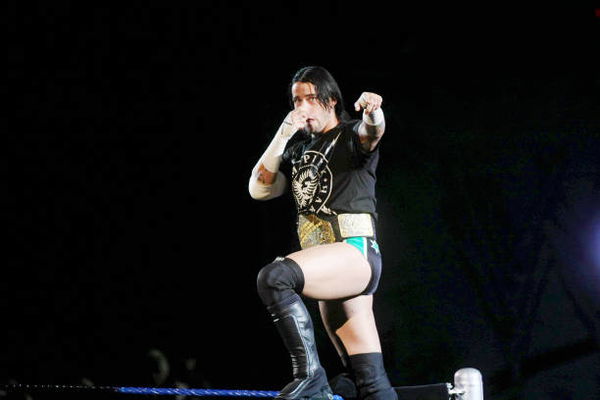 ---
---
Before CM Punk became a multi-time World Champion in WWE, he was killing it in a relatively small promotion called Ring of Honor. During his ROH days, Punk faced many talented superstars who are now at the top of WWE and AEW. However, none of those men reached the level of Samoa Joe.
ADVERTISEMENT
Article continues below this ad
Samoa Joe vs CM Punk I
ADVERTISEMENT
Article continues below this ad
Joe and Punk had a magnificent rivalry that had two of America's biggest promotions running after them. Joe held the ROH Championship and had held it for a mammoth fifteen months. Punk was one half of the ROH Tag Team Champions and the leader of the Second City Saints. They clashed for the first time at a PPV called ROH World Title Classic.
Punk and Joe shook hands before wrestling an absolute masterpiece. Joe was the larger man, but his agility and speed was on display here. Punk tried to avoid Joe's submission game for most of the match.
Punk knew he was no match for Joe's strikes and tried to bring the big man down by basic wrestling moves. Joe kept looking for openings, and once found, pummeled Punk with vicious chops and uppercuts. The challenger tried to frustrate the champion by constantly applying a headlock on him.
Joe absolutely tortured Punk, driving him headfirst into the barricade and wrenching the oxygen out of him like a python. Punk fought back into the match and attacked Samoa Joe's legs. With the big man's feet compromised, Punk seemed to have the title won.
The sixty-minute time limit was approaching fast, but both men saw no quit in them. Punk pulled out all stops to pin Joe, but the Samoan kicked out of everything. Joe wrenched at Punk's limbs in the most painful way, but could not get him to tap out. The match ended in a tiring, absorbing and intense sixty-minute time limit draw.
Joe vs Punk II
The second match in this classic series is considered one of the greatest wrestling matches of all time. Dave Meltzer of the Wrestling Observer Newsletter awarded this match with the coveted five-star rating. ROH promoted the PPV completely around two of ROH's biggest stars and titled it Joe vs Punk II.
In this match, Punk tried to put away Joe very early and avoid going the distance with Joe. Joe's submission game had also significantly improved since the duo's previous match and did not take the challenger lightly at all. Punk's use of the side headlock once again came into play in this match.
They threw strikes, submissions were exchanged, and a newfound aggression emanated from both men. As the match approached the forty-minute mark, wrestling went out of the window and a brawl erupted between both men. Punk connected with a blitz of moves, but Joe kicked out of all of them.
Joe's submission game almost gave him the win. He stretched Punk's limbs to a point that the crowd cringed at the sight of it. Victory was in sight, but Joe could not pin Punk after nailing him with a brainbuster, and the time limit expired once again.
The third and final match
ADVERTISEMENT
Article continues below this ad
With the first two matches ending in a time limit draw, Punk and Joe needed to settle their differences in a third and final match. Many could consider this match the weakest of the trilogy, but it was still an ROH classic. With no time limit set, Joe and Punk were seemingly set to wrestle for more than just sixty minutes.
What fans saw shocked them to the core. In just thirty minutes, Joe made Punk pass out in the dreaded Coquina Clutch. The Samoan assaulted him with vicious suplexes before locking in the submission. Fans chanted 'please don't tap' at Punk, but the challenger had no choice but to tap out.
The rivalry between CM Punk and Samoa Joe had the wrestling world talking for a long time. TNA signed Joe, where he won both the X-Division and the TNA Heavyweight Championship. Punk would win the ROH Championship soon after, but WWE snapped him up in 2005 where he was assigned to OVW.
ADVERTISEMENT
Article continues below this ad
Punk and Joe's incredible rivalry in ROH proved to WWE and TNA that they are two stars to build the future around. WWE did it in 2012, and TNA did it as soon as they signed him. Both stars would have very memorable careers after this superb rivalry.