"Ready to be BLACK ADAM"- Dwayne Johnson Rips Apart Metal Gate
Published 09/18/2020, 9:41 PM EDT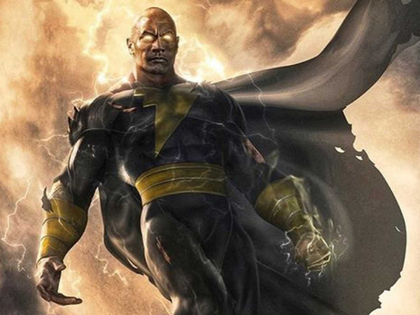 ---
---
Dwayne "The Rock" Johnson has many achievements to his name. Whether it's as a successful pro-wrestler, budding businessman, or charming actor, The Rock has done it all. Now, the former WWE Superstar has added gate-ripping to his resume.
ADVERTISEMENT
Article continues below this ad
The Rock took to Instagram to address a situation which was both impressive and hilarious at the same time. He used his "superhuman" strength to rip off the gate of his house from the wall and shoved it aside.
"So I did what I had to do. I pushed, pulled and ripped the gate completely off myself. Ripped it completely out of the brick wall, severed the steel hydraulics and threw it on the grass."
ADVERTISEMENT
Article continues below this ad
Now, before there are assumptions about why he did so, we need to understand the context. Due to unforeseen circumstances, a power outage rendered his gate nonfunctional. Even after attempting to override the system, The Rock was left with no means of opening it to leave for work.
However, it's safe to assume that his security team, gate technician, and everyone who is coming across his post are both shocked and filled with admiration.
"Not my finest hour, but I had to go to work. And I'm 💯 ready to be BLACK ADAM ⚡️💪🏾"

Let's face it, right now, the score stands at, The Rock – 1 and electronic metal gate – 0!
Is Black Adam replicating The Rock and his WWE run?
Lately, The Rock has been heavily devoting his time to shoot for Black Adam. The primary reason this movie will showcase The Rock in a different light is because he plays the role of a villain who turned into an anti-hero.
ADVERTISEMENT
Article continues below this ad
This is almost a replica of his time at WWE. Initially, following his debut, The Rock worked as a heel. More or less, a pro-wrestling heel is almost a close cousin of a movie villain, if not a twin.
Towards the latter half of his career, The Rock turned from heel to babyface. However, The Rock was never a conventional babyface. In fact, he believed in getting the right thing done by hook or crook. Needless to say, he is no stranger to the anti-hero character.
As a matter of fact, Black Adam is a story that touches base with The Rock's legendary pro-wrestling career.
ADVERTISEMENT
Article continues below this ad
Read Next: Hilarious: Otis Strips Miz Naked on WWE SmackDown