The Undertaker Answers the Gong for the Final Time with a Majestic Entrance at Survivor Series
Published 11/22/2020, 10:41 PM EST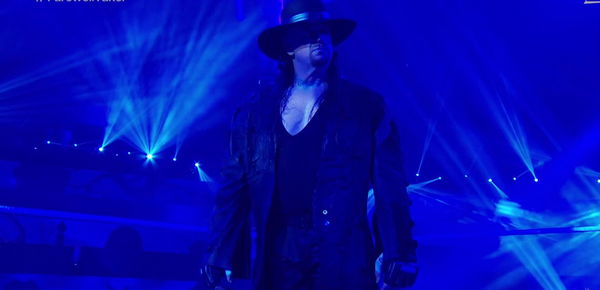 ---
---
Well, it's time to wipe those tears and say goodbye to one of our favourites. The Undertaker made his final entrance as a competitor in WWE. The ThunderDome went dark and goosebumps formed on the arms of those watching from their homes.
ADVERTISEMENT
Article continues below this ad
Undertaker's Survivor Series entrance
ADVERTISEMENT
Article continues below this ad
Undertaker's Final Farewell was celebrated at Survivor Series. Before that, Taker made another beautiful entrance. This was the first time the Deadman stepped foot inside the WWE ThunderDome.
Taker was given a rousing and emotional farewell introduction by none other than Vince McMahon. Vince called for the Deadman to come out, and then the infamous gong struck.
Prior to his generic music, an electric guitar version of his entrance music played while lightning flashed over the Deadman's marquee symbol. Then, the Phenom walked out to his trademark music and sauntered to the ring in true Undertaker fashion.
The entrance was not over the top like his previous entrance at WrestleMania 36. At the Show of Shows, Taker rode on a bike into the Boneyard match against AJ Styles. He even brought back the American Badass gimmick for the brilliant cinematic match.
Taker's Final Farewell
Taker's Final Farewell featured the return of several WWE legends. These included: Rikishi, Kevin Nash, Shawn Michaels, Triple H, Big Show, Jeff Hardy, The Godfather, JBL, Savio Vega and even Undertaker's kayfabe brother Kane.
The Phenom basked in the 'Undertaker' chants that played over the speakers at the ThunderDome. "For 30 long years, I've made that slow walk to this ring and I've laid people to rest, time and time again."
Time to say goodbye to the Undertaker
Undertaker said his time has come, while 'Thank You Taker' chants sounded in the ThunderDome. "My time has come to let the Undertaker rest in peace." 
ADVERTISEMENT
Article continues below this ad
Undertaker posed one final time in the ring, with Paul Bearer's hologram flashing in the ring. The legendary manager of the Undertaker passed away in 2013, and Taker paid tribute to him with his signature pose.
ADVERTISEMENT
Article continues below this ad
The gongs kept ringing, signaling the end of the Undertaker's time in the ring. As the gongs rang, tears ran down the cheeks of WWE fans all across the world, who idolized the Deadman.
It truly was a fitting end to the most wonderful WWE career, the most electrifying wrestler, the Phenom of WrestleMania, and simply the Greatest of All Time.