The Undertaker Reveals Why He Quit Going to Brock Lesnar's Fights
Published 01/23/2021, 9:03 AM EST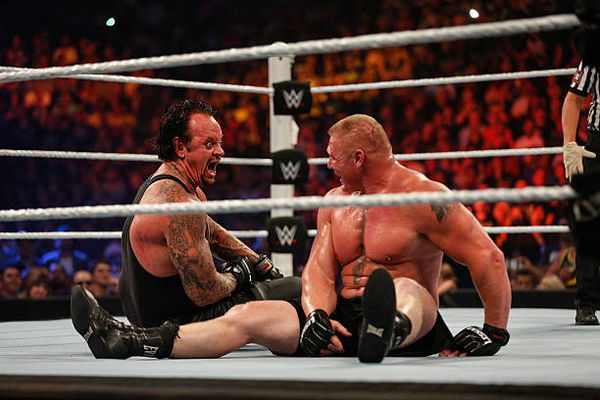 ---
---
The Undertaker and Brock Lesnar had a prolonged rivalry that saw them face each other in a series of matches. What started at WrestleMania XXX continued way beyond, making it one of WWE's most successful rivalries in recent years. But the rivalry didn't start just before Mania; it started way before in 2010 when Lesnar was in the UFC.
ADVERTISEMENT
Article continues below this ad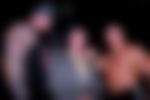 The Undertaker reveals why he stopped attending Brock Lesnar's fights
ADVERTISEMENT
Article continues below this ad
It's no secret that Mark Callaway, the man behind The Undertaker character, loves MMA. We've seen the 'Deadman' in attendance for several UFC events throughout the years. One such appearance was at UFC 121, and that's when he and Lesnar exchanged a few words.
The Undertaker revealed on The Joe Rogan Experience that Brock Lesnar lost every UFC fight when he was in attendance. So Taker decided not to be a bad omen for Lesnar and stopped going to his fights.
He said, "I quit going to Lesnar fights, every time I'd go he'd lose. I was the Jake, so I went to his fight with Mir and you know, he got caught in that net kneebar, and then he obviously came back and he won the next one. Then I went to the Velasquez fight."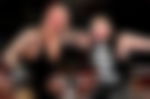 Honestly, that's a fun reason explaining why he stopped going to Lesnar's fights. However, it doesn't really matter because we couldn't have seen Taker and Lesnar go at it in the UFC.
Brock Lesnar made his WWE return two years later in 2012 and picked up where he had left off.
Lesnar ran through every single opponent upon his return, including John Cena and Triple H. After Lesnar was done with his feuds, he set sights on The Undertaker's undefeated WrestleMania streak.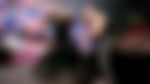 ADVERTISEMENT
Article continues below this ad
The build-up to their WrestleMania match was great, but the match itself was a huge shocker. Why? Because 'The Beast Incarnate' Brock Lesnar ended the 'Deadman's' streak – something wrestling fans thought would never happen.
However, the feud didn't end after the streak. It continued and saw both men face off in extremely physical matches at SummerSlam 2015 and Hell In A Cell.
Brock Lesnar and The Undertaker's rivalry is something that goes beyond the squared circle and was one of the best feuds in terms of business.
ADVERTISEMENT
Article continues below this ad
What are your thoughts? Did you enjoy The Undertaker and Brock Lesnar's feud? Share it in the comments below!