The Undertaker Reveals the Entrance He Loves the Most From his Iconic WWE Career
Published 03/21/2021, 8:30 AM EDT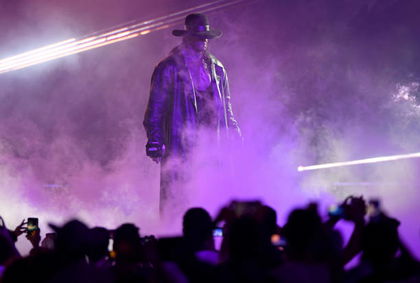 ---
---
Making an entrance is a crucial part of the whole WWE superstar shtick. A good entrance helps a superstar get over even more than a finishing move. From Andre the Giant to Sasha Banks, every WWE superstar has his or her own entrance that they're proud of. However, no one comes close to beating the Undertaker in this department.
ADVERTISEMENT
Article continues below this ad
Undertaker names his favourite entrance
ADVERTISEMENT
Article continues below this ad
To portray a spooky, undead wrestler takes a ton of charisma and years of acting classes, but Mark Calaway nailed it in his first attempt. Since debuting at Survivor Series, Undertaker's slow walk to the ring while his iconic entrance music blared in the background.
From entering Wembley Stadium in a funeral hearse to rising from hell at WrestleMania 25, Taker must have a favourite entrance. While speaking on My Mom's Basement with Robbie Fox, Taker revealed his favourite entrance.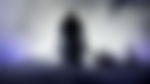 "One of them definitely is the, when I rose from the bottom of the stage and its back-lit with all the smoke and then all the demon arms and stuff are coming."
The entrance he claimed was his favourite was from WrestleMania 29. Taker faced CM Punk inside MetLife Stadium and beat him to go 21-0 at WrestleMania.
"That one I thought was really cool. You know, there were so many. I mean they were big productions, and you know, the fireballs, and all of that stuff, really iconic entrances. But I think that one; that one is probably one of my favourites just for cinematic value."
The entrance featured some of NXT's most prominent talent: Luke Harper, Sami Zayn, Rusev, Adam Rose, the Ascension (Konnor and Viktor), Kassius Ohno, Byron Saxton, Xavier Woods and wrestling legend Vader's son, Jake Carter.
The Deadman's WrestleMania 29 classic
After entering MetLife Stadium in iconic fashion, Undertaker wrestled a phenomenal match against CM Punk. Punk came off his incredible WWE Title reign, which lasted 434 days. He dropped the title to The Rock at the 2013 Royal Rumble, and the match against Taker was a well-deserved consolation prize.
ADVERTISEMENT
Article continues below this ad
Punk's historic title reign made it seem like he had a realistic chance of beating the Deadman. With Paul Heyman by his side and the urn stolen from Taker, Punk had the psychological advantage over Taker. Punk played even more mind games with the legendary figure, mocking him and hitting him with his signature Old School move as well.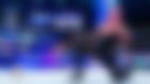 Despite that, the Deadman powered through and put Punk away after two Tombstone Piledrivers. While the match was one of the best matches of 2013, it remains significant as it was the last win before Brock Lesnar snapped his streak the following year.
ADVERTISEMENT
Article continues below this ad