The Undertaker Reveals Why He Never Tried His Hand in Hollywood Like The Rock
Published 03/20/2021, 12:40 AM EDT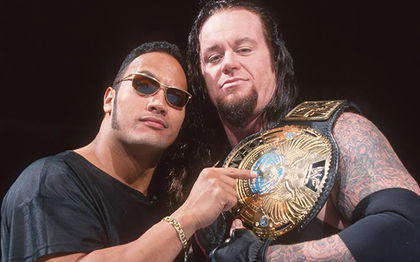 ---
---
WWE Legend The Undertaker is a Superstar that every child and adult across the globe is familiar with. The 'Phenom' enjoyed a three-decade long career and touched many lives in that period.
ADVERTISEMENT
Article continues below this ad
Taker's greatness and popularity know no bounds, and all of it has come only from the sports entertainment business. What if Taker had transitioned into Hollywood like his fellow WWE colleague, Dwayne 'The Rock' Johnson?
The Undertaker reveals why he didn't transition into Hollywood, takes funny jab at The Rock
ADVERTISEMENT
Article continues below this ad
During an interview with Robbie Fox of Barstool Sports, The Undertaker was asked whether he ever felt like doing TVs and films while still at the peak of his career. The 'Deadman' had very strong reasoning behind why he didn't transition, and he took a nice fun jab at Dwayne 'The Rock' Johnson while explaining the same.
Taker said, "My mindset was like, I'm living my dream here. So I didn't have aspirations of going to Hollywood and crossing over like that, which I got nothing against guys who do. I mean, jury's still out on whether it worked for The Rock or not, I don't know. He's a C-Lister."
The Undertaker further explained that he was living his dream and didn't want to do something that hurt kayfabe. He believed it was his responsibility to protect his character, and that's what he did. He added that while he didn't have to worry about social media at the time, he couldn't be a guy with one thing on the internet and another on TV.
The 'Deadman' concluded, "There was just too big a disconnect in the way I looked at things. I understand we're sports entertainment and everybody understands things now. But for me, it was always bringing that air of authenticity to what you were seeing. I always wanted to put in somebody's mind – good, bad, or indifferent. 'That dude is different. You know?"
The Rock responds to The Undertaker's humorous jab at his Hollywood career
ADVERTISEMENT
Article continues below this ad
On the other hand, Taker's comments on The Rock's Hollywood career reached 'The Great One's' ears, and he promptly responded by putting over how great The Undertaker is. He even said he's the greatest big man to ever grace the squared circle. Likewise Dwayne, likewise.
Hahaha one of the many reasons I love my big brother, Take💀
Great sense of humor. Absolute beast in the ring and the most athletically gifted big man to ever wrestle and grace our squared circle. An honor to get my ass kicked by him over the years 🙏🏾💪🏾#CList4L😂 https://t.co/7gIv0NEbVJ

— Dwayne Johnson (@TheRock) March 18, 2021
The Undertaker has given it his all for pro wrestling/sports entertainment. He could've very well become a great actor, but his love and dedication for his craft know no bounds. Taker has in a genuine sense given his all for his character. Hence, he is regarded as the greatest ever to step foot in the ring.
ADVERTISEMENT
Article continues below this ad