The WrestleMania Curse! Dwayne "The Rock" Johnson Is Yet to Win a WWE Championship at WrestleMania
Published 03/28/2021, 8:00 AM EDT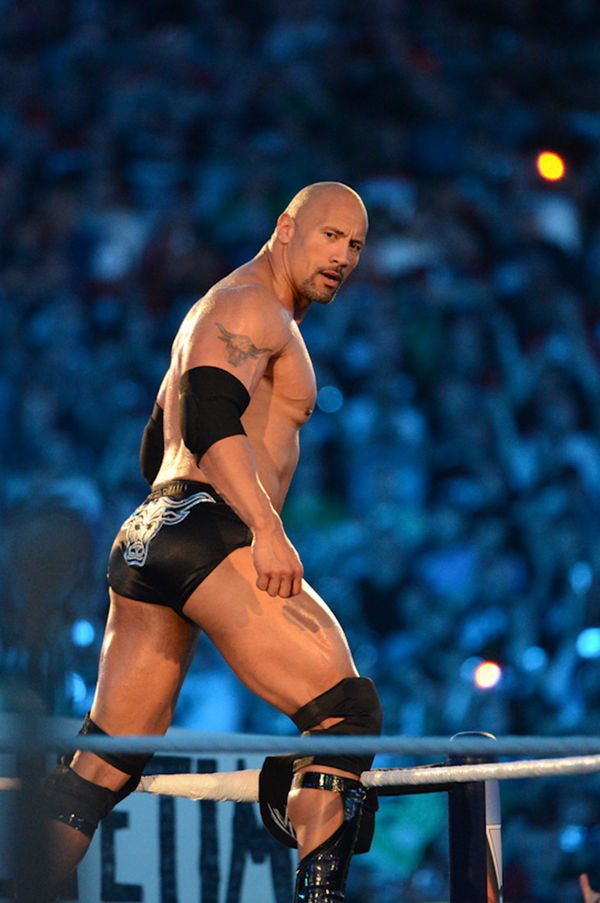 ---
---
After Roman Reigns returned to WWE last year, he started proclaiming himself as 'head of the table', 'tribal chief', and other notable adulations. He insinuated that he was the best wrestler in the reputed Samoan Dynasty. Meanwhile, fans started pitting Reigns against his cousin Dwayne "The Rock" Johnson, for an "ultimate supremacy" match at WrestleMania 37.
ADVERTISEMENT
Article continues below this ad
Both the Superstars involved wanted the match, but due to some undisclosed reasons, it never happened. This year, the Universal Champion, Reigns, will take on Royal Rumble 2021 winner, Edge, and Daniel Bryan in a triple threat match at WrestleMania.
Now, the reason for the Rock vs Reigns matches not happening could be easily attributed to The Rock's hectic schedule as a Hollywood Megastar. But an Instagram account pointed to another interesting thing.
ADVERTISEMENT
Article continues below this ad
Wrestlefeed pointed out that 'the most electrifying superstar' has lost in every single WrestleMania world title match in his career. Maybe, Vince McMahon wants to do more with Rock than just a one-time appearance.
 

View this post on Instagram

 
A look back at all the WrestleMania title losses of The Rock
The Rock has lost all his WrestleMania title matches. He has had four of them and three of them were back-to-back WrestleManias. Starting with WrestleMania 15, 'Stone Cold' Steve Austin defeated The Rock for the latter's WWF title.
At WrestleMania 16, he faced Triple H, Big Show, and Mick Foley in a fatal four-way match. All the contenders had one member of the McMahon Family supporting them.
Despite having the support of Vince, The Rock could not gain leverage over the other three men. Ultimately, the champion (Triple H) retained the title.
In the last WrestleMania title match of his full-time career, The Rock once again faced Austin for the WWF title at WrestleMania 17. As reminiscent of their clash two years ago, Austin defeated the Champ once again.
Last but not the least, the last title match of The Rock was at WrestleMania 29. The Rock won his eighth WWE title from CM Punk at Royal Rumble earlier.
As a result of being the Royal Rumble winner, John Cena challenged Rock, and the match became official. The match was termed as a rematch for their WrestleMania 28 bout which Cena lost.
ADVERTISEMENT
Article continues below this ad
But this time, Cena had the last laugh as he won the match and his eleventh WWE title. In that match, The Rock suffered an injury where he tore his abdominal and adductor tendons from his pelvis. He underwent surgery to fix the issue, and since then, he has been appearing sporadically.
There are speculations that The Rock will come back at 'WrestleMania Hollywood" in 2023. Could he face Reigns before that? Let us know in the comments below.
ADVERTISEMENT
Article continues below this ad