The WrestleMania Record Set by The Rock That Might Never Be broken in WWE
Published 03/23/2021, 10:30 PM EDT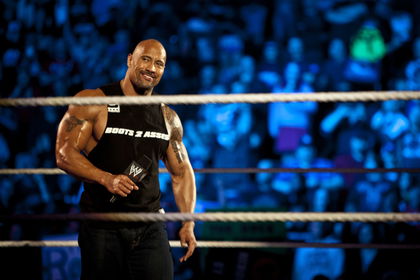 ---
---
WrestleMania records are a special achievement for any superstar to have. From the Undertaker's Streak to the incredible sixty-minute Iron Man match between HBK and Bret Hart, records put superstars in a class of their own. The Rock holds one record that many fans often discredit. The People's Champion registered the quickest win in WrestleMania history.
ADVERTISEMENT
Article continues below this ad
The Rock sets a WrestleMania record
ADVERTISEMENT
Article continues below this ad
At WrestleMania 32, The Rock walked out with a flamethrower and set his own name on fire. He then walked past the stunning Dallas Cowboys cheerleaders and cut a standard crowd-popping promo. After that, the Wyatt Family walked out to confront the Brahma Bull.
Bray Wyatt introduced himself to The Rock and staked his claim on the WrestleMania spotlight. In typical Rock fashion, the smack-talking People's Champion destroyed the entire Wyatt Family, and even claimed Strowman looked like a man breastfed till he was 27.
This led to Wyatt challenging The Rock to an impromptu match against Erick Rowan. Having stayed away from the ring for over three years, the legend would've been quick work for the red-bearded giant. However, what transpired was absolutely shocking.
The bell rang, and the legend planted Rowan with a quick Rock Bottom for the win in six seconds. This broke Kane's previous eight second record at WrestleMania 24 against Chavo Guerrero for the ECW Championship.
Will anyone step up to beat this seemingly impossible record? Can Roman Reigns spear Edge and pin him withing five seconds? Will Asuka catch Rhea Ripley in a quick armbar for a three second win? Tune into WrestleMania 37 to find out.
John Cena saves the People's Champion from a beat-down
ADVERTISEMENT
Article continues below this ad
After pinning Rowan and humiliating the Wyatt Family, Wyatt, Strowman and Luke Harper surrounded the Brahma Bull and wanted revenge. As The Rock steadied himself, John Cena's music hit and the sixteen-time World Champion sprinted to the ring.
He and the Rock sent the Wyatt Family packing with Attitude Adjustments and Rock Bottoms. The Rock and Cena hugged as the segment came to a glorious end.
Despite the entertainment, many viewed this segment as a total burial of the Wyatt Family. Bray never recovered from that moment until he won the WWE Championship in 2017. As for Strowman, he found a singles career on Raw. The remaining two members of the Wyatt Family would remain unutilized until their WWE releases.
ADVERTISEMENT
Article continues below this ad