"There's No Boundaries I'll Not Cross" – Randy Orton Challenges the Fiend for a Showdown at WWE TLC
Published 12/08/2020, 12:26 AM EST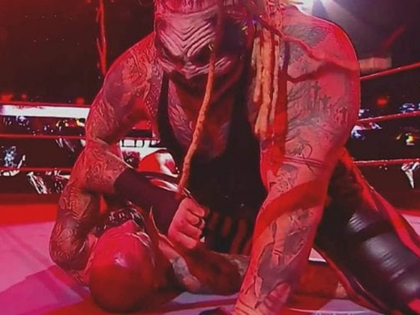 ---
---
The latest episode of WWE Monday Night Raw opened with an appearance from Randy Orton.
ADVERTISEMENT
Article continues below this ad
After he entered the ring, a brief recap video of last week's segment between Orton and The Fiend played. It showed Orton trying to find The Fiend's weakness and successfully doing so.
Once the video ended, Randy Orton addressed the situation and made a statement about himself. According to him, he does not need a mask to unleash the darkness within, unlike The Fiend.
ADVERTISEMENT
Article continues below this ad
"When my time comes, I'm going to stare the devil right in the eyes and let him know that the most evil son of a bitch has come for him. In the meantime, I'm going to be waiting at the funhouse door, wondering just who exactly is going to let me in."
This is when the Firefly Fun House music started playing and Wyatt appeared on screen. According to Wyatt, 'The Viper' was mean to Alexa Bliss last week, so this time he will have to settle for Wyatt.
At this point, Randy Orton wanted to put an end to the madness, but Wyatt was getting started. Wyatt believed that Orton deserved to be punished at TLC for his actions last week, but how? The Ramblin Rabbit and Huskus were coming with the wrong answers. Wyatt stopped them to let everyone know that the only one who knows the answer is The Fiend.
Orton was done and challenged Bray Wyatt to a fight later. Wyatt accepted.
Ramblin' Rabbit met 'The Viper' backstage to say he could not wait to see Wyatt and Orton in the ring.
Randy Orton vs. Bray Wyatt result
The match ended with no result.
When the match started, Bray Wyatt had taken charge and put Randy Orton through the table. However, he grabbed the headset and said the show was heading to commercial.
Upon return, Randy Orton took charge and was taking brutal shots at Bray Wyatt, who responded with laughter. He hit Wyatt with several moves until the lights started to go out.
Orton realized what was happening and tried to go for the pinfall victory. Unfortunately, the lights had all gone out and the referee could not count.
When the lights turned back on, The Fiend was under Orton, and immediately used the Mandible Claw to grapple him. This is when the show went off air.
ADVERTISEMENT
Article continues below this ad
Randy Orton and The Fiend are scheduled for a match at the upcoming WWE TLC.
ADVERTISEMENT
Article continues below this ad