These Little Known Facts About The Undertaker Will Shock You
Published 12/24/2020, 7:05 AM EST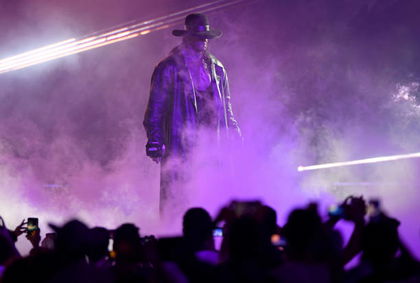 ---
---
The Undertaker remains an integral part of WWE even after his retirement. After all, thirty years in the sports entertainment industry that too in the same company is no child's play.
ADVERTISEMENT
Article continues below this ad
However, one must wonder what 'The Deadman' is like outside the ring. Or what could be some unknown facts about him beyond his 'character?' In this age of the internet, almost everything is known. Still, we tried to find some lesser-known facts about the Deadman.
The Undertaker was not always exclusive to WWF/WWE
ADVERTISEMENT
Article continues below this ad
Mark Calaway was just a basketball player trying his luck at wrestling in his initial days. Without formal training, Calaway wrestled in a variety of promotions before he came to WWE. He wrestled in World Class Championship Wrestling, United States Wrestling Association, WCW, and even in New Japan.
However, he felt he was lacking something in wrestling and took some time off. Taker even thought about leaving the business before it all changed.
The Undertaker was the very first 'client' of Paul Heyman
Although never in WWE, Paul Heyman (then known as Paul E. Dangerously) briefly managed 'Mean Mark' in WCW. Heyman was the one who introduced Mark to noted WWF producer Bruce Prichard. So, in a way, Undertaker owes Heyman his career.
Bruce Prichard was the one who convinced Vince McMahon to give the 'new guy' a chance. The meeting went well and WWF signed The Undertaker. Paul Heyman himself passed down a job offer from WWF that year but wanted the very best for The Undertaker.
Mark Calaway had lots of 'names'
Choosing a name for your wrestling character is pivotal. If one makes it in the business, this name is known worldwide. It is hard to imagine The Undertaker having any other identity. However, he had eight names and an almost ninth one.
Apart from the 'Mean Mark' of WCW, The Undertaker initially made his wrestling debut as 'The Master of Pain' followed by Texas Red, The Punisher, Punisher Dice Morgan (brief stint at NJPW), and Commando. Shockingly, his initial WWE debut could have been with a character called Eggman.
Thirty years ago, a large egg appeared on WWE hoardings, and when it hatched, a wrestler named Gobbledy Gooker, dressed as a turkey, came out of it. This 'turkey' was supposed to be the Undertaker!
Even before his current moniker, Undertaker's full name was Kane, The Undertaker. Bruce Prichard came up with it from the biblical tale of Cain and Abel.
Cain was the first man to ever commit murder when he killed Abel. Although Undertaker only took the latter part, a few years later, his 'brother', Kane, eventually came through.
Speaking of Kane…
The Undertaker has been in the ring with Kane the most
In his thirty-year long career, Undertaker faced his brother the most. From being in one of the most formidable tag teams to being at each other's throats, the duo has done it all.
The duo established the likes of Inferno matches, Buried Alive matches, and more. They have faced each other 184 times and Undertaker won 106 of them. He lost 21, and the others were no contests.
The Phenom has never lost via submission to anyone
Undertaker has wrestled over 2200 matches and won more than half of them. Even though the winners are predetermined in professional wrestling, it is a testament to the charisma of the taker.
Throughout his career, Undertaker has never lost via submission to ANYONE. However, he has put many people to 'sleep' (including Brock Lesnar) in his Hell's Gate submission,
He never wrestled at WrestleMania as the World Champion
The Undertaker has seven world titles to his name. However, never in his career has he appeared in the greatest show as a world champion. Some believe this was the impact of the 'streak;' hence giving rise to the idea that the streak was much important than a title.
However, he won the world title on three different occasions from Psycho Sid, Batista, and Edge.
The Deadman is scared of cucumbers
ADVERTISEMENT
Article continues below this ad
As spilled by his long-time friend and manager Paul Bearer, cucumbers make The Undertaker uneasy. Bearer told Bruce Prichard that "he can't stand cucumbers."
Once upon a time, Undertaker threw up after he saw a cucumber floating in his iced tea. Bearer believed it had something to do with his childhood. The locker room often pranked Undertaker over the green fruit.
ADVERTISEMENT
Article continues below this ad
Do you know any such facts about Taker? Let us know in the comments below.