Till Death Do Us Part: The Triple H and Stephanie McMahon Love Story
Published 08/04/2020, 9:15 AM EDT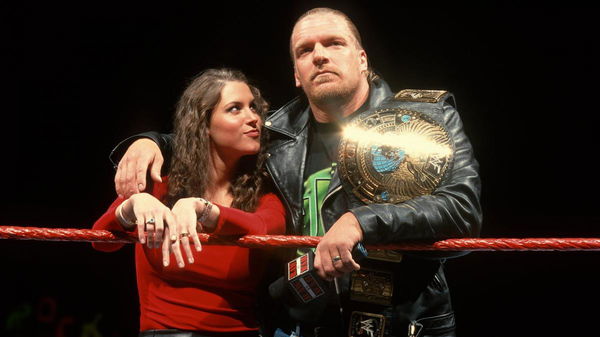 Triple H and Stephanie McMahon are one of the most recognized couples in WWE History. Why? Its because they have been together throughout modern WWE History and have essentially seen and done it all. 
ADVERTISEMENT
Article continues below this ad
The two have been the love story of WWE that everyone knows about, and the way the two met is even more romantic. 
ADVERTISEMENT
Article continues below this ad
Deep into the peak of WWE ratings during the Attitude Era, Triple H was the rebel to Vince McMahon's authority. He, Stone Cold, The Rock, and many other Superstars led their own circus throughout RAW. 
In order to take a step up against Vince, Triple H successfully drugged Stephanie McMahon during a party and married her while she wasn't in her senses. He even recorded the full event!
He then played the recording during Stephanie's wedding in front of her on-screen fiance Test.
This was strictly for TV, which is what brings us to the reality aspect of it. Of course, as you all may know, Stephanie turned on her own father in the most dramatic fashion to get in a relationship with Triple H. But that's when the real sparks set in.
Vince McMahon had a hard time dealing with Triple H and Stephanie
The two realized that through the amount of time spent with each other, they had grown to like one another and decided to date in their off-screen lives. 
Vince McMahon soon found out about it and we can only imagine what his reaction was. McMahon was understanding and allowed the two to date, despite the understood policy of Executive relations not dating any Superstar.
However, due to the immense work at hand, Vince McMahon did have a few bumps in the road after his decision.
"My father knew my husband long before I ever did. He actually always says that he loved him first … there really was this wonderful respect and admiration between the two of them before I even came into the picture," says Stephanie. "So I don't think it was too hard of a push. But when you think about what it took for my husband to put his career on the line. What if things didn't go well? … If it didn't work out, what would that mean for him?"
Stephanie McMahon revealed how everything fell into place
Stephanie McMahon then revealed what truly transpired at that point.
"It was not always just all roses. We were given permission and then it was taken away," says Stephanie. "In terms of the reasons why I don't know if he was getting pressure. It was a really big thing in our business for the top star to be dating the boss' daughter and all of the implications it could have."
Understanding the situation Vince was being put in, the two split up. They soon realized, however, that they could not spend time away from each other like that and began seeing each other on the down-low once again.
When it comes to his business, Vince McMahon is like Heimdall; there's nothing that goes by him without him noticing. He soon found out about his daughter's secret but realized that the bond between the two was very strong. He then approved of the relationship.
In 2002, the couple split up on-screen because of their storyline but stayed together in real life. They were literally living parallel lives, and their real relationship may have put the effectiveness of the storyline in jeopardy.
Few cared about this misalignment to the relief of the writers, who had put years of effort into the story. Triple H and Stephanie would go on to get married in real life in 2003.
WWE did not bring up the marriage for 6 years
While the two were married and everyone knew about it, WWE did not acknowledge the wedded couple until a comfortable 6 years later, at which point they easily slipped the relationship into the WWE Universe. This was a necessity to prevent any discrepancy in the storylines of the Attitude Era or of their effects on the next era.
Vince McMahon is obviously glad to have a son-in-law like Paul Levesque (Triple H). He has been blessed with three grandchildren from Levesque and Stephanie.
Their first child, Aurora, came 3 years after their marriage in 2006. The second, Murphy, was born in 2008, and the third, Vaughn, in 2010. The three daughters are often seen with their happy parents.
ADVERTISEMENT
Article continues below this ad
WWE has successfully managed to incorporate Triple H and Stephanie's relationship into the storylines, often pairing the two as a power couple. They even went on to start their own faction knows as "The Authority".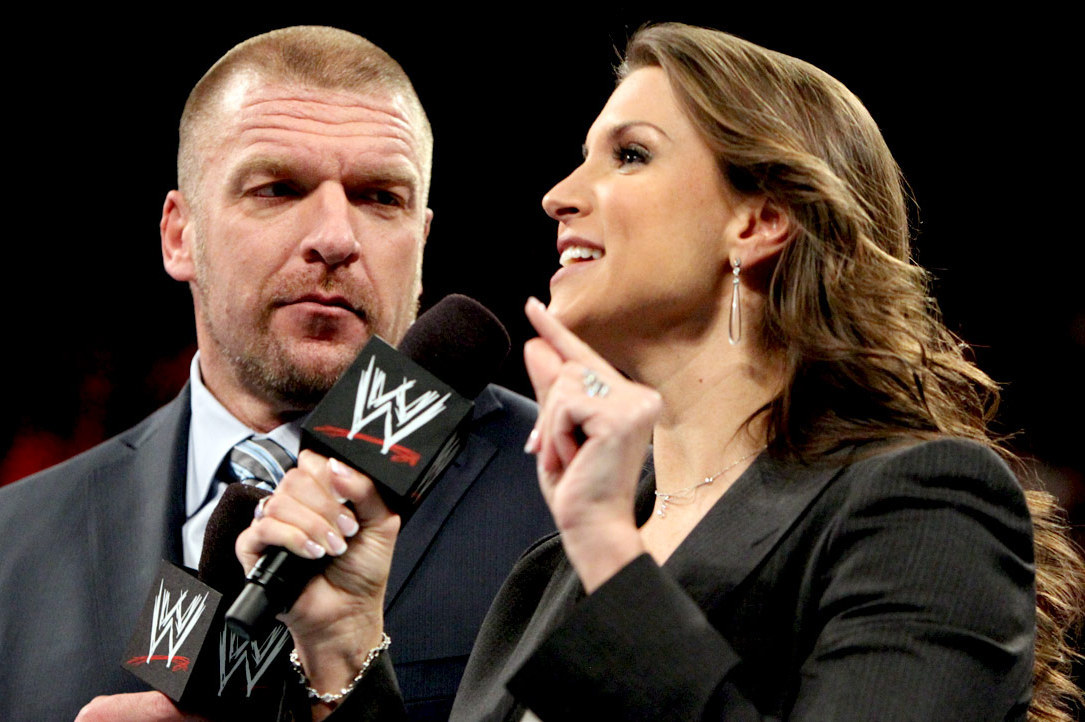 Triple H and Stephanie are living statements that Vince McMahon's company is in safe hands. The two may seem quite obnoxious on-screen at times, but there's nothing more heartwarming than seeing them joke around in their ordinary lives away from WWE.
ADVERTISEMENT
Article continues below this ad
The two have been married for 17 years now, and are looking at a brighter future still.
Source: Heavy. , Huffington Post