"I Loved TNA"- Kurt Angle Finally Shares the Reason he Left WWE for TNA
Published 08/02/2020, 9:00 AM EDT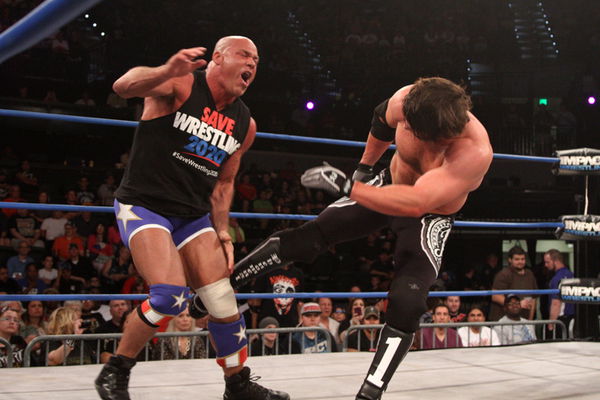 ---
---
In a recent interview, WWE Hall Of Famer Kurt Angle finally shared the reason why he left WWE in 2006 to join TNA. The Superstar's departure from the company sent shockwaves across the WWE Universe, who had grown so accustomed to hearing his theme.
ADVERTISEMENT
Article continues below this ad
Kurt Angle has brought it all out now and explained the true reason why he left the company where it all began for its rival promotion. Kurt Angle got to work with a variety of young wrestlers in TNA that would go on to become the cream of the crop for WWE today.
ADVERTISEMENT
Article continues below this ad
"Well to be honest with you I don't think I would've worked with them if I did not go to TNA so when I left WWE in 2006, I was burned out," admits Angle. "I was having a painkiller problem, I was having a lot of injuries. I was working 300 days a year and I just wasn't enjoying it anymore and I had to get out."
Painkiller issues are a problem that plague wrestlers to this day. The straining pressure of overbooking and constant work takes its heavy toll on the bodies of most Superstars. Brock Lesnar also had this same problem in his early years at WWE. 
"I knew it was for my own good health so I decided to go to a smaller company and do lesser shows and TNA gave me that ability and it paid me very well for it so, you know, I had to do what I had to do for health reasons," explains Angle.
Kurt Angle wrestled with a lot of young Superstars in TNA
Kurt Angle had the pleasure of working with a young AJ Styles and Drew McIntyre during his time at TNA. He also had several classics with Sting, something which WWE fans had dreamt for a long time.
"You know I loved TNA, the time I spent with them, the matches I had. I actually had a little bit better of a career there than I did WWE," remarks Angle.
ADVERTISEMENT
Article continues below this ad
"My career in WWE, the first run was pretty good you know, I would say for 4 years I was the best wrestler across so you know, it was hard leaving but I knew someday I would come back," says Angle. "I didn't know it would take that long but you know, I had some setbacks, some DUIs, personal stuff and I had to go to rehab and get myself straight, and then I made my way back to WWE."
A few years ago, Kurt Angle made his prodigal son-like return to WWE as the General Manager of RAW. He would undoubtedly go on to headline WrestleMania with Ronda Rousey as they took on the team of Triple H and Stephanie McMahon, a match that he and Rousey would emerge victorious in.
ADVERTISEMENT
Article continues below this ad
All cards on the table, Angle has had one of the best careers that he could've asked for. He has tasted the best of both worlds after all.