"I Wanted to Run the World Wrestling Federation"- IMPACT's Don Callis Reveals Why He Rejected to Work With Vince McMahon
Published 01/16/2021, 6:52 AM EST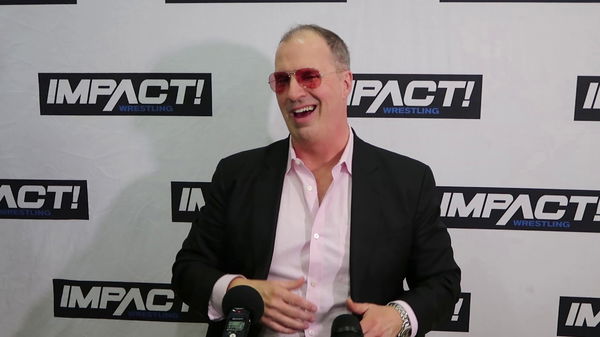 ---
---
An essential part of WWE's product is its creative team that pulls the strings behind the content backstage. Vince McMahon aims to add the best in the business to his creative team, and Don Callis was also close to being one of the members. 
ADVERTISEMENT
Article continues below this ad
The co-executive vice president of IMPACT Wrestling was once a manager in WWE, back when it was called WWF. His impressive work made Vince McMahon offer him a position in the creative team. 
ADVERTISEMENT
Article continues below this ad
In a recent interview with Chris Van Vliet, Don Callis himself revealed how he received the offer and what he thought about it.
"If you were to look at a couple of promos I did in WWF in 97. I was, I think the first person, maybe one of the first people anyway to come out as I was a total unknown and I came out in one of my first promos I did in on a live Raw was, not calling out a wrestler, I called out Vince McMahon," explained Callis. 
"I said that I wanted to run the World Wrestling Federation. I wanted to run the wrestling business and people thought, 'oh that's an interesting kind of bullet point' or whatever."
Don Callis wanted to be the king, not the pawn
Don Callis explained how he was never interested in being a gear in the process; he wanted to be the process. For this reason, he turned down the offer.
"But it was true. I never had an interest in being a pro wrestling manager or being a color commentator. I wanted to be the person pulling the strings," said Callis. "I was twenty-nine years old when I said that and I don't think the time was right."
ADVERTISEMENT
Article continues below this ad
"Vince McMahon was clearly not a guy who was going to allow other people into the tent. They had offered me jobs to move to Stamford on three different occasions which I turned down," revealed Callis. "But that's always been the goal. You don't want to be the person acting in the movie. You probably want to be the studio or the person that finances the studio that finances the movie."
Don Callis is now an integral part of the management at IMPACT Wrestling. He has managed to maintain healthy relationships with NJPW, AEW, and other wrestling promotions which fosters inter-promotional showdowns.
ADVERTISEMENT
Article continues below this ad
Callis' product may not be as popular as WWE's, but the latter can still learn a thing or two from IMPACT. It's safe to say that he fits in the chair he wanted from the boss.