REVENGE: Charlotte Flair Gets Her Face Pied On WWE SmackDown
Published 12/03/2021, 10:30 PM EST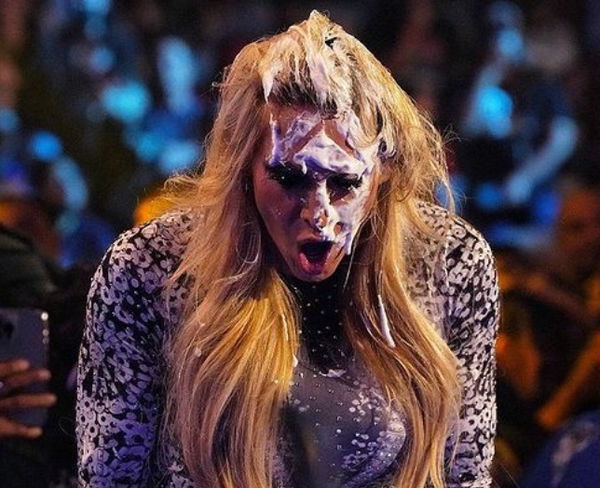 ---
---
WWE SmackDown Results 3rd December 2021: Charlotte Flair and Toni Storm have been at it with each other ever since Storm challenged her two weeks ago for the SmackDown women's championship.
ADVERTISEMENT
Article continues below this ad
After losing to Becky Lynch at Survivor Series, Charlotte cut a promo. Amid the promo, Storm interrupted her. As she had predicted The Queen would lose to The Man, Toni rubbed her correct prediction on Flair's face. This resulted in the former getting her face smeared with not one but two pies.
ADVERTISEMENT
Article continues below this ad
When talking about the pie incident, Storm said she was upset as fans will know her as the girl who got two pies thrown at her face. But Charlotte can do whatever she wants. Storm then accused Flair of not knowing what to do because Toni was not intimidated or even impressed by The Queen's accolades.
She continued and stated that Flair might have more experience, but she's in Flair's head. While the SD champion might think that the former UK women's champion isn't on her level, she is dead set on proving Flair wrong.
Storm ended her interview by saying that she may be Toni 2 Pies right now. Though, she has a better name for herself coming up—SmackDown Women's Champion.
Charlotte Flair calls out Toni Storm for using her name
After Toni's fierce promo, it was The Queen's turn to say a few words to her challenger.
Charlotte said that the only way to get noticed in WWE is to challenge the most decorated woman in sports entertainment. She called Toni' so far below' her level that even acknowledging Storm feels like too much credit.
Condescendingly, Flair stated that she did a favor to Toni after smashing two pies in her face because she is the talk of the town now. Flair laughed about her actions and encouraged the audience to laugh with her.
"Toni can shower off the pie all she wants, but she'll never wash off the stink of her embarrassment," Charlotte continued. She told the audience that Storm is easy to embarrass, so imagine what will happen when Charlotte beats her in a match.
The champion is all about lifting other women. But when she said that Toni wasn't on her level, she meant it as a mere fact. Hence, Charlotte came out to the ring to deny Toni a championship opportunity out of respect.
ADVERTISEMENT
Article continues below this ad
As Charlotte exited the stage and turned around to acknowledge the crowd, Toni Storm blindsided her and hit Flair in the face with a pie.
ADVERTISEMENT
Article continues below this ad
Talk about getting great revenge. It is unclear what will happen next between the two women. But it looks like Storm will get her title opportunity on Day 1. The pay-per-view will take place on 1st January.