Top Raw Superstars' Attitude Issues May Have Led to His WWE Release
Published 11/08/2021, 8:00 AM EST
By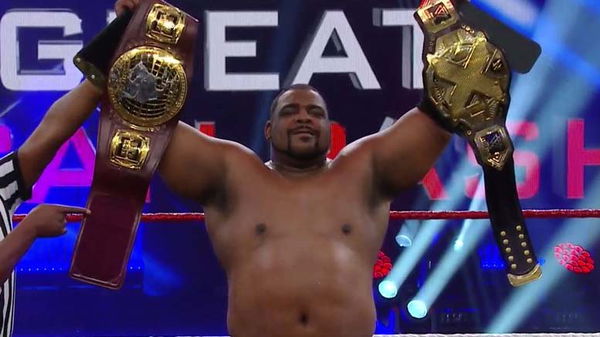 If there was someone worthy of dethroning Roman Reigns for the Universal Championship, it was Keith Lee. From having a face-off with Brock Lesnar to being the only person to win the NXT world and the North American title simultaneously, Lee's future seemed bright.
ADVERTISEMENT
Article continues below this ad
Fast forward fourteen months later, and Keith Lee is now a free agent, and it doesn't make sense.
ADVERTISEMENT
Article continues below this ad
Amid numerous rumors, there is one that serves as a possible indication as to why Keith Lee got released from WWE. In a PWTorch VIP audio show, Wade Keller has revealed what he heard from sources about the former NXT champion.
"Keith Lee, who I have chronicled for months and months, was somebody that even people that were rooting for him behind the scenes became frustrated with him." [h/t wrestlingnews.co]
Lee was also very frustrated and had attitude issues, "I've heard different things about him in terms of his mood being altered way more than it should in the modern era about being asked to do a job."
On his daily report Wade Keller was told that Keith Lee had "perceived attitude issues" backstage. He did not like the idea of doing jobs (while in NXT too) and often complained. This is coming from people in WWE so take it for what it's worth

— BRICK (@Brick_Zon) November 5, 2021
Whatever the reason for his release, Lee was a rising star who could have been a main eventer if appropriately utilized. However, fans have held out the hope that he will be back to wrestling soon enough.
Why was Keith Lee absent from the ring for months?
Keith recently revealed that he battled COVID-19 in January. After COVID, he found out that he had an inflamed heart and could not wrestle or even train anymore.
He revealed all his health issues to fans in the Out Of Character podcast, hosted by Ryan Satin back in August. Lee told Satin that he thought that retirement was knocking on his door due to his heart issues.
"I'm just grateful that I was able to come back and be back in the ring because that fourth or fifth MRI, I was resigned to the fact that my career was done."
ADVERTISEMENT
Article continues below this ad
Eventually, Lee got the good news that he would be able to wrestle again, but it wasn't easy to reach that point. In September, Lee came back to the ring to face Akira Tozawa and had a new gimmick, Keith' Bearcat' Lee.
 

View this post on Instagram

 
ADVERTISEMENT
Article continues below this ad
Unfortunately, things didn't work out the way fans hoped, which led to Lee's release. Although Lee wasn't successful in WWE, fans hope to see him in AEW soon after his non-compete is up. They still believe in him, which is better than holding any fancy title.
WATCH THIS STORY: Dwayne Johnson, aka The Rocks Top Championship, Wins in WWE