Triple H and Stephanie McMahon Crown Vladimir Abouzeide as The First Ever Superfan at WrestleMania 37
Published 04/10/2021, 8:47 PM EDT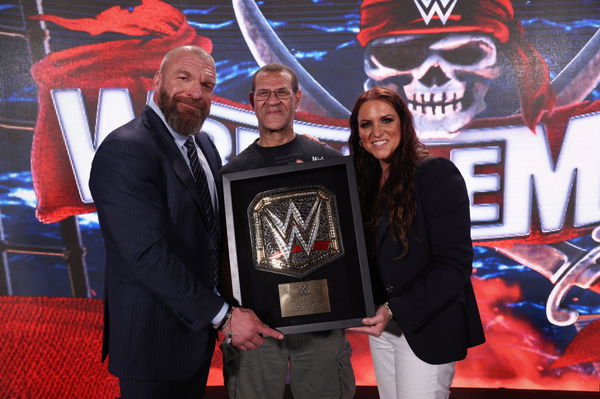 ---
---
As WrestleMania goes back to 'normalcy,' WWE has introduced a new concept for its WWE Universe. WWE officials Triple H and Stephanie McMahon introduced the concept of "superfan." Vladimir Abouzeide became the first-ever WWE certified superfan.
ADVERTISEMENT
Article continues below this ad
Triple H first shared the news on his Twitter account ahead of the event, "What better way to welcome back the WWE Universe at WrestleMania than naming Vladimir our first-ever officially certified superfan!!!!"
By the looks of it, a super fan is awarded a plank with the WWE title belt design and the superfan designation.
ADVERTISEMENT
Article continues below this ad
The news came in as quite the shocker as WWE Universe waited for Night 1 to begin. WWE also announced there will be a documentary on Vladimir's dedication over the years, premiering on Peacock and WWE Network in summer.
ADVERTISEMENT
Article continues below this ad
Who is Vladimir Abouzeide? The first superfan?
ADVERTISEMENT
Article continues below this ad
During the kick-off show, WWE aired the trailer of "Superfan: The Story of Vladimir." He revealed he first rose to the 'spotlight when Hall of Famer "Rowdy" Roddy Piper called him up to the ring in 1986, at Madison Square Garden.
Vladimir has been part of WWE tapings for a long time. Other fans also noticed Vladimir's constant presence in the front row. "He was like one boy to the wrestlers. He was the celebrity in the crowd."
"Vladimir became a part of the show in many respects. Because (in) all the big events, he was sitting the first row," people conversed. Vladimir's reputation eventually made the fans deduce he was one of the "insiders."
WWE Hall of Famer Jeff Jarett further weighed in on the matter.
"How are different people doing across the world that, candidly part of their identity in WWE?" he said, looking back at the effects of lockdown on the live audience. "The relationship that Vladimir has with WWE, It's part of his moral fiber. It is a part of his identity… And that was taken away"
Vladimir concluded the trailer as he said, "It's a part of me. It's like, if I bleed right now, You'll see Wrestling in me." The trailer also had a glimpse of some of the archived footage and his WWE collectible collections.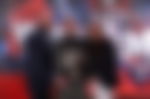 No date of the premiere of the documentary has been announced as of yet. Despite some criticism, this is inarguably WWE's way of welcoming back the crowd in the post-pandemic era.
Let us know your thoughts on
Triple H'
s introduction of superfan in the comments below.