Triple H Reveals How Top WWE Star Worth $15 Million Got Snubbed By The Undertaker and John Cena in His Early Days
Published 04/19/2022, 11:30 AM EDT

Follow Us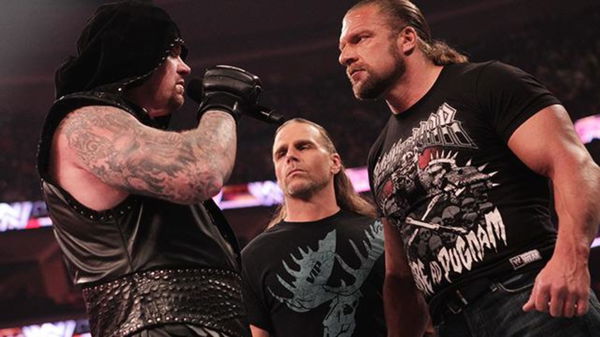 WWE has seen major superstars over the years like The Undertaker, The Rock, Stone Cold Steve Austin, Triple H, Kane, etc. The WWE Universe still remembers all of them as they all were with the company at its biggest boom period.
These WWE legends did not become major superstars overnight. It took them an abundance of matches and multiple years of hard work to be at the top.
ADVERTISEMENT
Article continues below this ad
The current superstars like Roman Reigns, Becky Lynch, Seth Rollins, and Kevin Owens have worked hard in the last 10 years to reach the top position in WWE.
Roman Reigns got rejected over The Undertaker and John Cena
Recently, talking with The Athletic, the COO of WWE Triple H shared the current landscape of the company with having new major superstars like Roman Reigns and Becky Lynch. Moreover, he also revealed how they were not recognized much some years back with an example of The Tonight Show call ups.
Triple H said, "Three years ago, 'The Tonight Show' would call and want a guest and ask for Triple H or The Undertaker or (John) Cena. There was a year I couldn't make it work, and I asked them to pick Roman or Braun (Strowman)."
He added. "They weren't interested.… Now Roman is on that show on his own. It takes time. You're building stars. It's not like flash-in-the-pan stars where this guy's hot in boxing today and six months later, no one remembers him."
Becoming a top WWE superstar is a goal of every pro-wrestler who joins the company. As Triple H stated, a wrestler takes time to be on the top. The example of Roman Reigns is a perfect case to show the growth of homegrown talent.
WWE is constant in search of new superstars around the business. Some of them go on to become the biggest superstars in the company, while some stay on the same level or leave WWE for other opportunities.
Triple H praises the growth of two top WWE Superstars
The Game, while sharing his views on making a homegrown talent in WWE, also praised Roman Reigns and Becky Lynch for their success in the company today.
ADVERTISEMENT
Article continues below this ad
He said, "You're trying to build generational stars that last. It takes time. It's a slow and steady progression, and they're getting there. Becky Lynch, Roman, they're becoming household names."
'The Man' and 'The Tribal Chief' have already become generational superstars in a short time. Their build in the company was slow and steady, which connected with the WWE Universe and hence, they are now where we see them every week.
ADVERTISEMENT
Article continues below this ad
Do you think the same as Triple H? Will WWE make more bigger superstars in recent years? Let us know your comments below.
Watch this story:- WWE SmackDown Results: RK-Bro Arrives to Face The Usos, Charlotte Flair Launches an Attack, and More!